Paris — Hooligan violence dominated television coverage of the demonstration in the streets of Paris, but for leaders of the nationwide protests against a new employment law, Tuesday was a success: Yet again, they brought out more than a million demonstrators to prove their point.
Compromise with President Jacques Chirac's government is not what protesters seek. They want the withdrawal of the law that would make it easier for employers to fire young workers.
"We are really close to getting the government to give in," said Marc Dago, a high school geology teacher at the boisterous Paris march that snaked from the Place de la Republique, crossed the Seine River and finished at Place d'Italie on the Left Bank.
Dago added: "If we give in now, the government is going to carry out much more harmful and far-reaching reforms that will affect all workers, not just the young."
The marches were largely peaceful but the Paris protest degenerated into violence at the end. Several hundred youths swarmed across Place d'Italie, ripping up street signs and park benches and hurling stones and chunks of paving at police. Police responded with tear gas and rubber pellets and made repeated charges, carrying away those they arrested.
Police said they took 383 people into custody in Paris, where 34 people were injured - including four officers. Elsewhere in France, 243 people were arrested. As before, the violence appeared to involve many youths from Paris' tougher suburbs and extremists.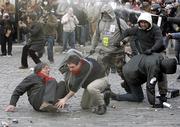 "It is giving them too much credit to ascribe an ideology to them. These are just hoodlums, who come to break and pillage. I'm not sure there is an ideology behind all this," said Interior Minister Nicolas Sarkozy.
Youths in groups attacked bystanders, news photographers and protesters, kicking and punching some. They used metal bars to break up chunks of pavement that they hurled at helmeted riot officers, who advanced behind raised shields to sweep the square clear.
Youths also smashed store windows, bus shelters and clashed with police in Rennes, in northwest France, and store windows, cars and telephone boxes were damaged in Lille in the northeast.
Students backed by unions have spearheaded ever-larger marches for two months against the law. Chirac signed it anyway Sunday, saying it will help France keep pace with the global economy.
He offered modifications, but students and unions rejected them.
In a sign that the impasse might be easing, major unions agreed to talks today with members of Chirac's party charged with drawing up his proposed modifications to the jobs law, although labor leaders also said they would hold firm on their demand to scrap the law.
"The priority is to come out of the current crisis," Prime Minister Dominique de Villepin said in parliament.
Copyright 2018 The Associated Press. All rights reserved. This material may not be published, broadcast, rewritten or redistributed. We strive to uphold our values for every story published.