Tossing a one-hitter and losing was bad enough.
"Throwing a no-hitter and losing stinks," Kansas University softball coach Tracy Bunge said.
Four days after flipping a one-hitter and falling to Oklahoma State, KU right-hander Kassie Humphreys hurled a no-no against Nebraska on Tuesday afternoon at Arrocha Ballpark.
And lost.
The Cornhuskers pushed across a pair of unearned runs and posted a 2-0 victory despite fanning 10 times and never hitting the ball out of the infield.
For her part, Humphreys maintained a stiff upper lip.
"We're not down, and nobody's blaming each other," said Humphreys, a 5-foot-11 junior from Glendale, Ariz.. "Adversity makes us stronger, and there are still a lot of games for us to get better."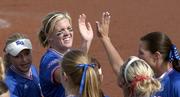 Humphreys flung seven innings of no-hit ball against OSU last weekend, then surrendered a ground single in the eighth inning that eventually led to an unearned run and a 1-0 loss.
On Tuesday, Humphreys deserved at least some of the blame for the Huskers' two runs. Minutes after Trisha Tannahill was plunked by a pitch, the NU outfielder moved to second on a ground out. Then Tannahill went to third on a wild pitch and scored when KU catcher Erika Simington couldn't corral a called third strike on Devin Porter.
Nebraska scored again in the seventh, and again it was Tannahill, a senior from Olathe East. Tannahill stole second after reaching first on shortstop Destiny Frankenstein's error, moved to third on a passed ball and scored on another Humphreys wild pitch.
"I felt good out there," Humphreys said, "but I'm not doing a fabulous job. I can cut out the wild pitches and the walks."
Humphreys issued three free tickets, but none scored.
Meanwhile, the Jayhawks left seven runners on base - three in the sixth inning.
Heather Stanley opened the sixth with an infield single, then Nettie Fierros reached on a error to set the table for the heart of the Jayhawks' order - Frankenstein, Serena Settlemier and Jessica Moppin.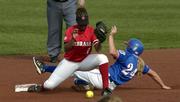 "We were right where I wanted us to be," Bunge said, "and for whatever reason we didn't get it done."
Nebraska right-hander Ashley DeBuhr promptly fanned Frankenstein and Settlemier. Moppin wangled a walk to fill bases, but freshman third baseman Val Chapple whiffed to end the threat.
The fateful sixth boiled down to three runners and three strikeouts.
"Our pitching is not an issue," Bunge said. "We've got to put the ball in play. We're at a critical point in the season, and this is the time to get it done."
Kansas fell to 1-4 in Big 12 games and must travel this weekend to Baylor. First, however, the Jayhawks will face Arkansas in a doubleheader at 4 p.m. today in Fayetteville, Ark.
"It'll be the best thing in the world to get back on the field right away," Bunge said. "It's time to get it done. It's crunch time."
Kansas is 18-18 overall. Nebraska climbed to 3-2 in the league and 25-6 overall.
¢ Notes: Nebraska hadn't been no-hit since Texas ace Cat Osterman shut the Huskers down during last year's Big 12 Tournament. :Heather Stanley had two of KU's four hits, all singles : Curiously, it was Humphreys, batting ninth, who hit the hardest ball of the afternoon - a third-inning rocket right at Tannahill in left field : Humphreys hasn't allowed a hit in 16 of her last 17 innings.
Copyright 2018 The Lawrence Journal-World. All rights reserved. This material may not be published, broadcast, rewritten or redistributed. We strive to uphold our values for every story published.