More than 20 kids came out bright and early on April Fool's Day to Riverfront Park. They weren't there to play pranks or make jokes. They were there to race. Kids ages 10 and younger participated in the youth division of the God's Country Duathlon at 9 a.m. The adults raced one hour later.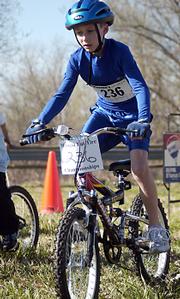 The duathlon was comprised of three legs: a one kilometer run, a four kilometer bike ride and another one kilometer run. After the first run, participants strapped on their helmets and mounted their bikes for the second leg. The bike leg finished in the same spot as the first run, where each kid dropped their bike and helmet before taking off for the finish line.
"I think the second run was the hardest part," first-place finisher Christopher Locke said. "I prefer the biking anyway, so running isn't really my strength.
Locke and his friends, Michael Neeley, Matthew Guerrero and Alex Alshouse ran the race together. Guerrero finished second while Neeley and Alshouse rounded out the group. All four are Boy Scouts in Pack 247 in Kansas City.
While Locke has had some experience racing - his dad and duathlon organizer Chris Locke has organized 15 duathlons over seven years - some of his scout mates were duathlon rookies.
"This was my first race like this," Guerrero said. "It was really fun so I just might run in some more of them.
Guerrero certainly had a good showing in his first duathlon. He came from behind to finish in second place behind Locke. Guerrero started the race in last place, but made up ground during the first run and the biking leg.
"The hardest part of the race was having to catch up with everyone else right at the beginning," Guerrero said.
Photo Gallery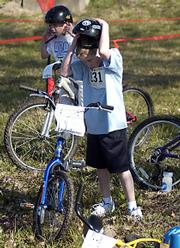 God's Country Duathlon
There was indeed a wide range of experience amongst the kids in the race.
Chris Locke said some kids even train for the event. The God's Country Duathlon is one of three events in a series that Locke has organized for the past seven years. Devil's Revenge is held at Clinton Lake and the Midwest Challenge is held in Blue Springs, Mo.
"The best thing about organizing these events is seeing everyone enjoy themselves," Locke said. "It's difficult to get enough volunteers and support on race day, but when it all comes together it's really fun."
In the end, everyone went home with something to show for their efforts. No pranks were pulled during the event on April Fool's Day and the duathlon ran smoothly. Gold, silver and bronze medals were awarded to the top three finishers in each age division. Each participant received a goodie bag with a T-shirt and various prizes.
Copyright 2018 The Lawrence Journal-World. All rights reserved. This material may not be published, broadcast, rewritten or redistributed. We strive to uphold our values for every story published.