Chicago — As the Chicago White Sox were getting their rings, the Cleveland Indians were getting ready for the game.
At the end of another U.S. Cellular field ceremony celebrating Chicago's World Series championship, the Indians ran in the outfield and got loose. And that's how they played Tuesday when they beat the White Sox, 8-2.
"The ultimate is to win the World Series, and they deserve the right to celebrate that and honor that season," said Aaron Boone, who took some of the glimmer off the day with a homer, four hits and four RBIs. He also crashed into White Sox catcher A.J. Pierzynski to score.
"It was a good shoulder-to-shoulder. He's a little bigger than me, and it was a clean hit," Boone said.
"I didn't take any exception to it. It wasn't a big deal. It's part of it. Whatever," Pierzynski said.
The White Sox unveiled championship banners in the opener Sunday, got their rings Tuesday and will present the World Series trophy to their fans today to wrap up their opening homestand.
"The rings are great. We can now put last year behind us and move on," Pierzynski said, adding that the ceremony had nothing to do with the way the White Sox played Tuesday.
"After tomorrow, hopefully all this stuff goes away and we can focus on the season. ... It had nothing to do with the rings. We fell behind early, and (Jake) Westbrook is tough."
And manager Ozzie Guillen, who embraced owner Jerry Reinsdorf in a huge bear hug as he went to receive his ring, agreed. It's been fun, but time to move on.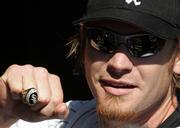 "It was great, nice for the guys. Thank God this thing is over. All the circus is over, and we can concentrate on playing baseball," Guillen said.
Westbrook allowed two runs and six hits in 61â3 innings for the Indians. After Westbrook left, Rafael Betancourt and Guillermo Mota didn't allow a hit.
"The offense was great, and I was able to relax and go right after them," Westbrook said.
Victor Martinez also homered for Cleveland as the Indians roughed up loser Freddy Garcia for seven runs and nine hits in four innings. The Indians bounced back from Sunday night's soggy season opener, when they lost, 10-4, in a game interrupted nearly three hours by rain.
Athletics 4, Yankees 3
Oakland, Calif. - Marco Scutaro singled over left fielder Hideki Matsui's head in the bottom of the ninth inning, giving Oakland a victory over New York in the rain.
Nick Swisher and Eric Chavez homered off Yankees starter Mike Mussina, who struck out six in seven solid innings but failed to earn a decision.
Milton Bradley drew a leadoff walk in the ninth against loser Scott Proctor, then moved to second on Jason Kendall's sacrifice. Swisher was intentionally walked to bring up Scutaro, playing in place of injured shortstop Bobby Crosby.
It was Scutaro's sixth game-ending hit during three seasons with the A's. He has five singles and a home run.
Mariners 10, Angels 8
Seattle - Richie Sexson had three hits and five RBIs, and Kenji Johjima homered in his second straight game to lead Seattle over Los Angeles.
Johjima, the first Japanese catcher in the major leagues, led off Seattle's five-run second inning with a home run. He also had an RBI single in the eighth.
Rangers 10, Red Sox 4
Arlington, Texas - Phil Nevin had a three-run homer in the first inning and later chased struggling Tim Wakefield with a two-run single, leading Texas over Boston. Winner Vicente Padilla allowed only one run and four hits over six innings in his AL debut. Acquired from Philadelphia in an offseason trade, he struck out five and walked two.
Blue Jays 6, Twins 3
Toronto - Roy Halladay outpitched Johan Santana in a matchup of recent Cy Young Award winners, and B.J. Ryan earned a save in his Toronto debut. Tired of finishing third behind the big-spending Yankees and Red Sox in the AL East, the Blue Jays signed Gold Glove catcher Bengie Molina, starter A.J. Burnett and Ryan during an expensive offseason overhaul.
Copyright 2018 The Associated Press. All rights reserved. This material may not be published, broadcast, rewritten or redistributed. We strive to uphold our values for every story published.