It was a classic battle of boys versus girls Saturday at Youth Sports Inc. The all girl 10U Blue Devils hit the field against the all boy 10U Blue Phantoms for the two teams' season-opener in the Club division. While each squad kept the other running for over an hour, it was the Blue Phantoms who pulled out the narrow win, defeating the Blue Devils 3-2.
Despite the loss, Blue Devils coach Bill Newsome said his girls played well in the opener.
"I thought the girls were very competitive, assertive and aggressive," Newsome said. "This was great for a first game."
Blue Phantom Alex Houston was the first to put a point on the board, breaking a first half lull as the Phantoms, decked out in dark blue, managed to keep the light blue Devils hopping.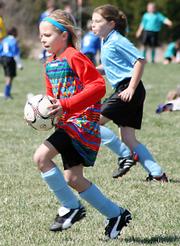 But the Devils weren't going to let the boys run away with the win. Danielle Campbell snuck the ball through the legs of the Phantoms' goalie to tie the contest.
The tie didn't last long either, because Briceson Junge sunk a sliding shot past Blue Devil goalie Addison Campbell to open up a 2-1 lead.
But once again the Blue Devils knotted the contest when Jenna Giele hammered a tying goal into the back of the net.
After the second tie, both goalies used strong defense to keep the contest scoreless into the second half.
Phantom Sam Evans was the thief of the game, poking away the ball multiple times, but the Devils wouldn't let him get down field. The two teams balanced each other out, keeping the ball static in the center - never spending too much time in either defensive zone.
But with little time left, the Phantoms' Houston provided the game-winner with his second goal of the afternoon. The Blue Devils had several shots at the end go wild, but they couldn't forge another tie.
Blue Phantoms coach Chuck Junge said he was happy with his team's win, but said there were plenty of skills to work on after watching the opener.
"Passing was the best thing they ever did," he said. "We still need lots of work. But, we're doing better."
Copyright 2018 The Lawrence Journal-World. All rights reserved. This material may not be published, broadcast, rewritten or redistributed. We strive to uphold our values for every story published.