Boston — One goal drove Monique Currie when she decided to return for one last season at Duke.
Just when she was on the verge of achieving it, those young, plucky Maryland Terrapins came along - and that "can't win the big one" tag will dog the Blue Devils for at least one more season.
Maryland beat Duke, 78-75 in overtime, in Tuesday night's NCAA championship game, leaving Duke still searching for that elusive first title.
Currie, a fifth-year senior, could have entered the WNBA draft last year and would have been an early pick. But she saw the players Duke had returning and decided it was the Blue Devils' best chance to give coach Gail Goestenkors a championship.
It didn't happen, though it looked as though it would for much of the game.
Duke had 13-point leads in each half and was up 70-67 with under 20 seconds to play in regulation. But Maryland freshman Kristi Toliver hit a three-pointer with 6.1 seconds left to tie it, and the Terrapins were the steadier team in overtime, making all six free throws and leaving Duke frustrated again despite a sixth 30-win season.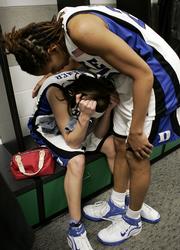 Currie and her teammates trudged slowly off the floor while the Maryland players celebrated in a massed circle at midcourt. It was Duke's fourth trip to the Final Four, all since 1999, and second loss in the championship game.
Currie put up 22 points, six rebounds, four assists and two steals in her final college game. After missing some easy shots early, she finished 7-for-16 from the field and went 8-for-9 at the free-throw line.
Her playing days are a long way from over, however. A second-team All-American after earning first-team honors last season, Currie is expected to be one of the first four or five picks in Wednesday's WNBA draft.
If things fall the right away, Currie could win a WNBA championship someday.
She just didn't get the one she wanted in college.
Copyright 2018 The Associated Press. All rights reserved. This material may not be published, broadcast, rewritten or redistributed. We strive to uphold our values for every story published.