When Steve Stemmerman walked into Billy Baker's hospital room Sunday night, the boy could barely move.
"He was barely awake. They have him pretty heavily sedated," Stemmerman said.
Now, hospital officials say the 15-year-old's condition is improving after he was struck by a trailer Saturday afternoon in North Lawrence. A large dip in the road near the intersection of North Second and Locust streets may have caused the accident.
While Lawrence Police continue preparing a report that will detail Saturday's accident, Stemmerman and other school officials have started collections to help Billy and his family during his recovery.
Stemmerman, a resource room teacher at Central Junior High School, saw the accident scene Saturday but didn't think much of it. He wouldn't find out until hours later that the trailer had struck Billy as he stood on the corner across from Johnny's Tavern with his father. But by the time Stemmerman arrived at the hospital Sunday night, he said Billy was attached to IV tubes and monitors, his eyes hardly open. The force of the accident had cracked his shin in two - a clean break that required surgery.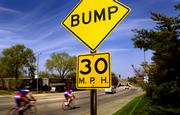 "He still may lose his leg," Stemmerman said.
But for Billy, the injury may be even more traumatic. Billy is a special education student, and although Stemmerman didn't detail the child's disability, he guessed that at first the trauma will take longer to understand.
"The initial part is going to be harder for him," he said.
Students and staff members at the school will help out any way they can. The school's Student Council members met Tuesday to discuss what they could do, and Stemmerman began taking a collection to donate to Billy's family.
Students flowed in and out of the Central Junior High office Tuesday, chatting about get-well cards they'd signed to send to Billy.
Across town, Banozhoni White was talking about Billy too. Banozhoni and Billy went to school together when Billy was at Woodlawn School, and the 11-year-old was shocked when she heard about his injuries.
She remembered walking through the halls at Woodlawn where she'd see Billy.
"He would always say 'Hi,'" Banozhoni said. "He always wanted to shake your hand."
Intersection of North Second and Locust
Now, Banozhoni and the staff at Woodlawn may try to raise funds for Billy and his family. Banozhoni talked with officials there Tuesday and said that she'll talk to a counselor today to try to set up a fund for Billy at his former school.
In the meantime, Banozhoni's mother, Venida Chenault, plans to distribute fliers in her North Lawrence neighborhood seeking donations for Billy. Both her daughter and son knew Billy, and she said the kids just wanted to do all they could to help.
"I really felt sorry for him," White said. "I just wanted to try to raise funds."
How to help
To give a donation in support of Billy Baker and his family, call Central Junior High School at 832-5400.
Copyright 2018 The Lawrence Journal-World. All rights reserved. This material may not be published, broadcast, rewritten or redistributed. We strive to uphold our values for every story published.