During the first few months of the year, Eric Costlow doesn't allow much separation between himself and a cup of coffee or a Diet Mountain Dew.
Costlow is a tax preparer at Hume's Econotax, 305 E. Seventh St., and he can spend anywhere from 12 to 17 hours at the office during peak tax time, poring over tax forms.
"Pretty much this time of the year, I drink a lot of coffee and Mountain Dew," Costlow says. "On any given day, I drink between four and eight (caffeinated) beverages. ... We can pull some late nights."
Whether it's brewed in a coffee shop, purchased from a workplace soda machine or popped in pill form for a late-night study session, sources of caffeine are everywhere. A 2004 study by the American Dietetic Assn. said nearly 90 percent of adults and 76 percent of children get a caffeine buzz daily.
While caffeine offers a temporary energy boost when taken in moderation, experts say too much can lead to serious side effects.
Body effects
Dr. Jennifer Lowry, who directs the Mid-America Poison Control Center at the University of Kansas Hospital, explains that caffeine affects a particular enzyme in the body that helps with energy production.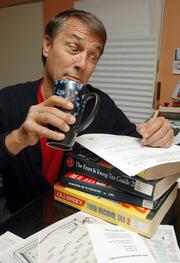 "It gets into the body and gives you what we call a mild euphoria - you just get a little high for a little bit," Lowry says. "You have a sense of lessened fatigue, increased flow of thought and increased alertness."
How much caffeine affects you depends on both your size and how much you're used to drinking.
"It's basically judged person by person," Lowry says. "If they're a caffeine virgin, even one cup of coffee or an espresso can get them revved up."
After a while, your body can get used to having that caffeine in its system as part of its regular metabolism. That's why if you suddenly stop drinking caffeine, you can experience withdrawal.
Side effects
Though the percent of people who drink caffeine daily has increased over time, the American Dietetic Assn. says the average intake is decreasing. The average adult who drinks caffeine drinks 193 milligrams a day, down from 227 milligrams a day in 1977.
How much buzz is in your beverage?
Here are some common beverages and the amount of caffeine they contain in milligrams. The American Dietetic Assn. says most adults can have 200 milligrams to 300 milligrams of caffeine per day with no physical problems.
Coffee Brewed, 8 ounces: 135 Espresso, 1 ounce: 30-50 Instant, 8 ounces: 95 Starbucks' Coffee Grande, 16 ounces: 259
Tea Black tea, 8 ounces: 40-70 Green tea, 8 ounces: 25-40 Nestea, 12 ounces: 26
Sports/energy drinks Red Bull, 8.5 ounces: 80 Full Throttle, 16 ounces: 144 SoBe Adrenaline Rush, 8.3 ounces: 79
Soft drinks (12 ounces each) Barq's Root Beer: 22 Coca-Cola Classic: 34 Diet Coke: 45 Diet Pepsi: 36 Mountain Dew: 55 Diet Mountain Dew: 55 Pepsi: 37
A typical mug of coffee contains 135 milligrams; most caffeinated sodas contain between 35 milligrams and 45 milligrams.
The association says most healthy adults can have between 200 milligrams and 300 milligrams of caffeine a day without having negative side effects.
But Dr. Charles Yockey, a physician at Lawrence Memorial Hospital, 325 Maine, has seen plenty of cases where too much caffeine either caused health problems or aggravated them.
The most common side effects, he says, are heart arrhythmias and rapid heart rate. He especially saw that when he was at Kansas University's Watkins Health Center, where students would occasionally come in with resting heart rates of 150 beats per minute.
"It was real common around finals time," he says. "They would stay up all night studying, drinking coffee or taking NoDoz."
Fooling your body
Excessive caffeine has been linked to several birth defects and high blood pressure. Some studies have linked it to decreased calcium levels in bones, especially in older women.
Yockey says people with heart problems should avoid caffeinated beverages.
"Obviously, the more heart problems you have, the less tolerance you have of caffeine," he says.
And, Yockey says, caffeine can lead to dangerous overconfidence if you're too fatigued.
"The caffeine thing is really weird - the more you take, and the more sleep-deprived you are, the caffeine gives you the sensation you're doing well," he says. "But on a performance test, their performance decreases. ... It's a total disconnect between how you're doing and how you think you're doing."
Jamie Profeta is among those who swear by caffeinated beverages. The Lawrence resident's buzz of choice: Go Fast!, a highly caffeinated energy drink similar to Red Bull.
"It's basically without the shaky side effects of coffee," Profeta says. "It clears your mind, gives you lots of energy and gives you lots of pep."
But he admits you have to be careful not to have too much.
"If you drink two," he says, "your palms will sweat."
Copyright 2018 The Lawrence Journal-World. All rights reserved. This material may not be published, broadcast, rewritten or redistributed. We strive to uphold our values for every story published.