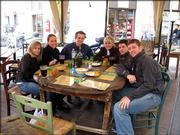 Editor's note - "There once was a girl who left home with two extremely large suitcases, no Italian language, and got lost in Italy."
So begins the firsthand account of one Kansas University student studying abroad in Italy.
Each year, about 1,000 KU students travel abroad. For many, if not most, it is their first experience in a foreign land.
Students in a class taught by KU professor William Dickinson were assigned to write brief descriptions of their first impressions of Italy. Those accounts were offered to the Journal-World, which we now share with you, our readers. We hope you will find it as entertaining as a packet of postcards received unexpectedly from young friends abroad. We also include a brief explanation of the program from the professor. Enjoy.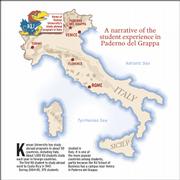 Paderno Del Grappa, Italy -- Study abroad programs, especially this one in a distant part of Italy, take Kansas University and other students out of their comfort zone. Stepping off the bus in Paderno del Grappa at the base of the Dolomite Mountains north of Venice, undergraduates confront a strange language and culture.
Homesickness may set in, and there are the usual wrenching adjustments to residence-hall life and unfamiliar faces.
The following vignettes on the theme of "culture shock" in Italy were assigned in my class on Rhetoric, Politics and the Mass Media. Since these were written, some weeks have passed. I can report with confidence that most of the students have adapted to their surroundings. They even relish moving around Italy and Western Europe on long travel weekends and travel weeks.
We return to the States on or about April 30. Students and faculty alike have been changed forever by their experiences. Mostly for the better.
Students in Italy
Student blogs
Copyright 2018 The Lawrence Journal-World. All rights reserved. This material may not be published, broadcast, rewritten or redistributed. We strive to uphold our values for every story published.