Boston — Maryland is playing for its first national championship, and these Terrapins are no fluke.
The only team to beat top-ranked North Carolina in the regular season did it again Sunday night, outhustling and outmuscling the disjointed Tar Heels 81-70 in the NCAA women's national semifinal.
In just four short years under coach Brenda Frese, the Terps have joined the nation's elite.
"They have the heart of a lion," Frese said. "They believe in each other ... I'm really proud of them."
The Terps confounded the Tar Heels' uptempo game, forcing them in to a halfcourt match for much of the game.
Crystal Langhorne and Laura Harper asserted their strong inside presence - and the sophomores intend to be around for a while. Harper had 24 points and Langhorne scored 23 for the Terps, who had beaten the Tar Heels, their Atlantic Coast Conference rival, 98-95 in overtime in the regular season.
Carolina avenged that with a 91-80 in the ACC tournament, but the stakes were much higher for this rubber match.
Erlana Larkins led the Tar Heels with 28 points and 10 rebounds. Ivory Latta, Carolina's feisty point guard, was banged up, knocked down and carried off the court at one point.
Though she returned, she never quite got on track, finishing with 14 points, four assists and made just one of 10 threes.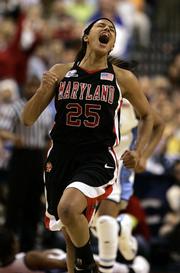 The Terps will play Duke.
Maryland ran its halfcourt came to near perfection, getting the ball into Langhorne or Harper for basket after basket. The Terps outscored North Carolina 50-38 in the paint and finished with a 41-31 edge on the boards.
Maryland was making its first Final Four appearance since 1989 but had the swagger of a team that's been here before. The Terps led by just two at the half, then began to methodically add to the lead.
Kristi Tolliver's three-pointer with eight minutes left gave the Terrapins their largest lead at 63-52. As the ball dropped through, Tolliver nodded toward the Maryland fan section and coolly gestured "bring it on."
For a while, it did seem Maryland was ready to run away with it. But Latta and the Heels had one more run left: North Carolina chipped away with a 11-4 run and Latta's two free throws with 1:06 left got the Heels within three at 73-70.
But there was no panic in these Terps. Shay Doron played cat-and-mouse with Latta as she brought the ball upcourt, then dished to a wide-open Coleman for a layup.
The Heels would get no closer.
Copyright 2018 The Associated Press. All rights reserved. This material may not be published, broadcast, rewritten or redistributed. We strive to uphold our values for every story published.