Kodiak Quick never flinched. Sure, the go-ahead run was at the plate, Kansas University closer Don Czyz suddenly was hittable, and the wind that howled toward center made every pop-up a potential base-clearer.
Quick had been through worse.
"I wasn't worried," the senior said. "Everybody's going to struggle a little bit, but I knew he'd come through."
Sure enough, Czyz answered the call by striking out Derek Chambers to secure a 9-6 Kansas victory against Missouri on Sunday at Hoglund Ballpark.
Without their best stuff, it was the two seniors' poise that helped the Jayhawks walk away with their first Big 12 Conference series victory of the year, against the league-leading Tigers.
Quick allowed runs in both the first and second innings but never panicked, even after Kansas fell into a 2-0 hole.
"I knew as much as they were hitting balls, they were eventually going to hit them to us," Quick said. "I was calm."
The right-hander soon found his groove. He allowed just one base-runner - a single by Evan Frey that tipped off the glove of Kansas first baseman Jared Schweitzer - over the next four innings. He completed his start by going seven innings, allowing seven hits and three runs.
"One of the things that he brings to the table is great maturity," Kansas coach Ritch Price said. "You can tell he pitched in the College World Series when he was with Stanford. He competes every pitch and competes every hitter."
Meanwhile, Czyz had his own obstacles to overcome after being handed a 9-3 lead entering the ninth.
Photo Gallery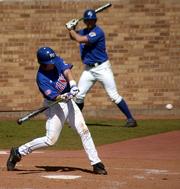 KU baseball vs. MU 04-02-06
Though he had allowed just three earned runs in his 32 innings pitched all season, the closer gave up hits to pinch hitters Kyle Mach, Dan Pietroburgo and David Cales to start the inning.
After recording a flyout, Czyz walked Zane Taylor and Jacob Priday to bring the tying run to the plate in cleanup hitter Hunter Mense.
"It's the first time that he has struggled all year," Price said. "It happens to everybody - it happens to (Yankees closer) Mariano Rivera a few times during the course of the season as well. I'm glad he was able to gut his way out of it."
Mense flied out a few steps in front of the warning track in center, and after a Brock Bond single, Czyz shut the door with the strikeout of Chambers.
The three earned runs doubled the amount Czyz had given up on the season and nearly doubled his ERA as well - moving it from a sparkling 0.85 to 1.64.
"Donnie's usually not prone to giving up runs like that," Schweitzer said. "He made it interesting, but he got the job done."
The Jayhawks benefitted from making the proper adjustments at the plate with a strong wind at their backs.
After squeaking one over the fence Saturday, Erik Morrison left no doubt Sunday as his shot to left-center cut the deficit to 2-1.
Schweitzer followed suit in the third. After a Ritchie Price walk, the senior popped a ball to left-center that kept carrying and carrying, inching over both the fence and the glove of Zane Taylor and for a wind-blown two-run homer.
"(The wind) helped it a lot because mine was basically a fly ball," Schweitzer said. "They're all home runs in the book, so I'll take it."
After tallying single runs in the fourth and sixth, the Jayhawks' patience paid dividends in the eighth.
With the help of two walks, two hit-by-pitches and two singles, Kansas rocked reliever Taylor Parker for four insurance runs to take a 9-3 lead.
"Once we got past the starting pitcher and got to their bullpen, I think that's the weak part of their team," Schweitzer said. "We exposed that and did a good job of scoring some runs."
Kansas would need each of them, as Czyz faced nine Missouri batters in the ninth.
Ritchie Price, Gus Milner and John Allman all added two hits for the Jayhawks, while Schweitzer contributed three RBIs.
The opening pitch was delayed 50 minutes as the tarp was placed over the infield in preparation for expected showers. The storms never did make it to Hoglund, giving way to clearing skies and sunshine after a few sprinkles.
Kansas (20-11, 4-5) has now won four of its last five games and can get back to the .500 mark in the Big 12 Conference with a home series victory against Texas Tech next week.
"I told our club it was the biggest weekend of the year for us," Price said. "After we lost the one Friday night, I was really proud of the way we responded Saturday and obviously today."
The Jayhawks will head south Wednesday to play the No. 13 Wichita State Shockers. Kansas defeated WSU, 8-2, at Hoglund on Wednesday.
Copyright 2018 The Lawrence Journal-World. All rights reserved. This material may not be published, broadcast, rewritten or redistributed. We strive to uphold our values for every story published.