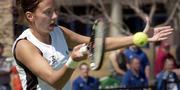 Kansas University's tennis team swept the doubles, then won four of six singles matches for a 5-2 Big 12 Conference victory Saturday over Oklahoma.
It was the fifth straight victory for KU, which improved to 10-6 overall, 1-4 in the league.
"I am proud of the way the team played today," KU coach Amy Hall-Holt said. "We came out very strong in doubles, and were able to keep the momentum going throughout the match."
KU's Elizaveta Avdeeva and Ksenia Bukina notched an 8-5 victory in the No. 1 doubles spot, while Lauren Hommell and Edina Horvath earned an 8-6 win at No. 2. The No. 3 team of Christine Skoda and Stephanie Smith also won, 8-3.
Avdeeva, Skoda, Horvath and Smith each recorded singles victories. Avdeeva and Horvath extended their singles win streaks to eight and five.
The Jayhawks will take on Big 12 foe Iowa State at 11 a.m. today.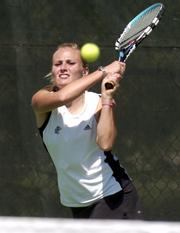 Copyright 2018 The Lawrence Journal-World. All rights reserved. This material may not be published, broadcast, rewritten or redistributed. We strive to uphold our values for every story published.