When Dominie Haas realized her 11-year-old daughter was being hounded by a sexual predator on the Internet, she sent the culprit a message of her own: She threatened to call the police.
Haas was chilled by the response.
"I wouldn't do that if I were you. I know where you live," the predator's message stated. "I know more than you think."
"My daughter, probably for a couple of weeks, had to sleep with me," the Lawrence woman said. "It terrified me, and it terrified her even more."
Haas was one of more than a dozen parents and teachers who last week attended a seminar at Pinckney School conducted by the Lawrence Police Department called Internet Training for Parents.
But Haas and her oldest daughter, Gabriel Ann Haas, already had firsthand experience in dealing with terror over the Internet.
Haas' daughter had an account on Neopets.com, a Web site where members obtain and care for virtual pets while building virtual stores. They can play games and send messages to friends.
At one point someone who had been an online friend through the site hijacked Haas' daughter's account and prevented her from using her password to gain access.
The culprit wanted Gabriel Ann to send pictures of herself.
Photo Gallery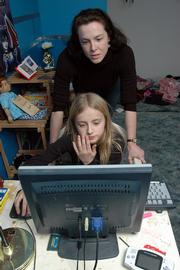 Defending against Internet predators
"He had convinced her to get an AOL (America Online) account because you can't send pictures on Neopets," Haas said.
Gabriel Ann informed her mother what had happened. Haas got online herself and posed as her daughter before telling the predator she was going to call the police. She also contacted the Web site administrator, the school and her daughter's friends. A check of the user name the culprit was using showed that it had been in use for two years and that there had been no complaints about it. Haas wonders whether that name had been stolen just as her daughter's was.
A police officer told Haas to shut down access to the Web site and to call the Web administrator, she said.
Haas' daughter had not given out her address or hometown over the Internet. But she had listed her ZIP code.
Now mother and daughter see to it that no personal information is given out online.
"It was a violation in more ways than I can describe," Haas said of the incident. "You are in so much shock and so much disbelief. It's not something I'm used to dealing with."
At the same time, Haas said she doesn't want her daughter to avoid using the Internet.
"I want her to know that there are steps she can take to keep herself safe and not have to avoid the world," Haas said.
Children and the Internet
Among children between the ages 10 and 17 using the Internet: ¢ The U.S. Department of Justice estimates 77 million children were active on the Internet as of June 2005. ¢ One in four had an unwanted exposure to sexually explicit pictures. ¢ About one in five received a sexual solicitation. ¢ One in 17 was threatened or harassed. ¢ One in 33 received an aggressive sexual solicitation.
Copyright 2018 The Lawrence Journal-World. All rights reserved. This material may not be published, broadcast, rewritten or redistributed. We strive to uphold our values for every story published.