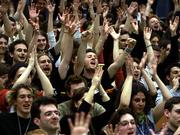 Paris — Prime Minister Dominique de Villepin said in a newspaper interview to be published today that he was misunderstood and made errors in his management of a hotly contested youth labor law that sent 1 million protesting students and union members into the streets.
He denied, however, that he has been disavowed by President Jacques Chirac, who, in the hope of restoring calm, ordered up a new, softer version of the law meant to make it easier to fire young workers.
Instead, Chirac's move appears to have fed his opponents' ardor. Unions and students planned a new day of strikes and protests Tuesday.
Villepin's measure aimed at encouraging companies to hire workers younger than 26 by making it easier to fire them. He fought relentlessly to keep the law alive and was criticized for being intransigent.
A poll published Saturday showed 72 percent of the French did not find Chirac's formula for an exit from the crisis convincing, and 75 percent said Villepin had been weakened by the crisis.
Copyright 2018 The Associated Press. All rights reserved. This material may not be published, broadcast, rewritten or redistributed. We strive to uphold our values for every story published.