"I rock."
"I got killer looks."
"Girls just want to have fun."
"I'm a college guy just trying to get by."
Nifty catchphrases, photos with suggestive poses and revelations of someone's innermost desires.
All that and more can be found with a few keyboard strokes and the click of a mouse button at Internet diary Web sites. In Lawrence, more than 8,000 people - some as young as 12 - are willing to share their personal stories with anyone who wants to browse one of those Web sites known as MySpace.com and Xanga.com.
Created just two years ago, MySpace has taken the lead in the social networking sweepstakes. Many young adults create personal pages on the sites to promote a business or band, or just meet up with others and their friends.
Photo Gallery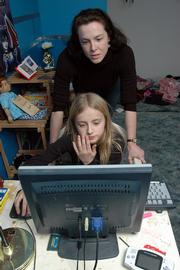 Defending against Internet predators
But there is also a seedier side, especially for young teens. The threat is Internet predators.
"The kids feel safe because they are behind a computer screen, but the guys who are predators know how to get around things," said Don Hicks, a school resource officer with the Lawrence Police Department.
There are numerous hunting grounds for those predators to explore. A Google search for online diaries brings up more than 70 million pages.
MySpace and Xanga are so popular that last year the Lawrence school district blocked those sites from being accessed by classroom and library computers.
"The librarians were concerned that students were spending more time on Xanga than doing research for their classes," said Nancy Horner, the district's information specialist in charge of the libraries.
At MySpace, people 14 and older can start an account and begin writing their own blog and profiles and begin chatting online and instant messaging with others. But there is no way to verify anyone's age.
Predators online
Child sex predators spend hours learning how to communicate with children online, according to the Lawrence Police Department. They study information to be knowledgeable about the latest youth trends, including music, police said. They know the language of young people, their favorite TV shows, interests and hobbies. They also: ¢ Keep notebooks on children. ¢ Locate a child online and turn to the appropriate page in the notebook. ¢ Try to become that child's best friend.
Members often display e-mail addresses, hometowns, pictures and other personal information that could be taken advantage of by predators, Hicks said.
"I've seen some pretty racy profiles posted from even Lawrence kids," he said.
Lawrence police have investigated incidents that originated from online diaries. A 14-year-old girl received "inappropriate" messages until the messenger was tracked through a complex Internet trail that led to a juvenile boy in Philadelphia, Hicks said. Police in that city took over the investigation and paid the boy a visit. No charges were filed.
Lawrence police have received reports of online bullying, in which Web sites are used to post messages that attack a youth. Web site owners have taken down those sites, Hicks said.
In November, Hicks and Officer Jon Barta began conducting two-hour evening seminars for parents about the dangers of the Internet, including online diaries. The classes also show parents ways to monitor their children's use of the computer.
A total of about 30 people attended two sessions held at Quail Run School, and more than a dozen parents and teachers attended a session last week at Pinckney School.
"It was pretty interesting that many of the people attending the session really had a limited knowledge about use of the Internet and the sites," Quail Run Principal Paulette Strong said.
Lyn Coleman tries to keep a close eye on what her 10-year-old daughter does on the computer. Still, she found the seminar at Pinckney to be an eye-opener.
"It is shocking to me, the amount of stuff that you can get to (on the Internet), and I know no amount of blockers are going to stop somebody if that's what they really want to do," Coleman said.
Here is a list of dates and schools where police will conduct Internet training seminars for parents:
¢ 6:30 p.m. Monday, Southwest Junior High School.
¢ 6:30 p.m. April 11, Sunflower School.
¢ 6:30 p.m. April 12, Lawrence High School.
¢ 7 p.m. April 19, Hillcrest School.
Copyright 2018 The Lawrence Journal-World. All rights reserved. This material may not be published, broadcast, rewritten or redistributed. We strive to uphold our values for every story published.