Erik Morrison never will know what carried his game-winning home run just a few feet over the wall in Saturday's 3-2 Big 12 Conference baseball victory over Missouri, but he made sure to thank his strength coach in the dugout anyway.
"I did put in a lot of hard work this offseason in the weight room to try to get a little bit bigger and stronger and faster," Morrison said. "I'd like to say my work paid off."
It did, but just barely.
The third baseman's eighth-inning, two-out blast to left field not only narrowly cleared the Hoglund Ballpark wall, it also just made it over the outstretched arm of a leaping Hunter Mense.
"I guess I got it above it or past it or whatever," Morrison said. "I wasn't really sure when it left my bat, but I was hoping."
Kansas closer Don Czyz finished off Missouri in the ninth, but not without some drama of his own.
Second baseman Matt Berner started the inning with an error, and Mense lined a single to left to give the Tigers two on with none out.
The senior Czyz buckled down from there. After getting Trevor Helms to pop out on a bunt attempt, the right-hander struck out pinch hitter Ryan Lollis.
Gary Arndt followed with a fly ball down the left-field line. On a dead sprint, left fielder John Allman went into a head-first slide in foul territory, catching the ball just before crashing into the wall. The sophomore displayed it to umpires while still on his back.
"I wanted the game to be over," said Allman, who later admitted it was a lucky catch. "We wanted to win the game for Donny because he's pretty clutch."
Facing arguably the best collegiate pitcher in Max Scherzer - who might be taken with the No. 1 pick overall in the 2006 major-league draft - the Jayhawks (19-11 overall, 3-5 Big 12) found themselves in danger of dropping to 2-6 in the league.
The comeback victory instead allows Kansas to get back to .500 in conference - with a victory today and a series victory against Texas Tech next weekend.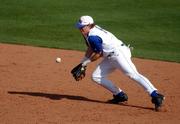 "Coach (Ritch) Price before the game told us it was the biggest game of the year, and if we didn't come to play, then it was going to be on us," Czyz said. "A lot of guys stepped up today, and it was a total team win - one of the best wins of the year, for sure."
After being pushed around by Missouri starter Nathan Culp in Friday's 3-0 loss, Kansas seemed less than intimidated by Scherzer on Saturday.
Though his fastball reached 99 mph on multiple occasions, the Jayhawks teed off on the All-American with two hits and a run in the first, with Gus Milner pulling an RBI single into left to score Brock Simpson.
In his first start back after a biceps injury, Scherzer was limited to four innings, allowing five hits and one run while striking out two.
"He was still really good," Price said. "His fastball was good, and he threw some really good breaking balls. They're taking care of him like good coaches do. They're not going to overuse him after not pitching for three weeks."
The Kansas coach could take credit for keeping the Jayhawks close early.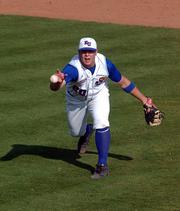 Trailing 2-1 in the sixth, Price used three different pitchers in the inning to work out of a two-on, one-out jam.
He then brought out his best reliever Czyz in the eighth, even though his team trailed by the same deficit.
"It was a must-win for us today," Price said. "We almost had our backs to the wall in order to win the series and climb back in this thing. We had to win today, and we're going to use our best guy today."
The strategy paid off, as Kansas' relievers combined for 3 2/3 scoreless innings.
Meanwhile, Missouri failed to make the most of its opportunities, stranding 16 runners.
Allman once again led the Jayhawk offense with a pair of hits. The sophomore is 7-for-11 (.636) in his last three games.
The attendance of 1,971 at Hoglund Ballpark was the fourth-largest in stadium history.
"In my four years, we've never had back-to-back-to-back crowds like we've had this week," Price said. "My players are thrilled that the community and students are starting to rally around the program."
The Jayhawks will send ace Kodiak Quick to the mound for today's 1 p.m. series finale.
Copyright 2018 The Lawrence Journal-World. All rights reserved. This material may not be published, broadcast, rewritten or redistributed. We strive to uphold our values for every story published.