Topeka — There has been no announcement, and certainly nothing ever is for sure when speaking of Kansas University's quarterback situation.
But following Saturday's football scrimmage at Hummer Sports Park, it appears Kerry Meier's the man in the driver's seat of this three-man race, with Adam Barmann and Todd Reesing running behind.
"We're moving in the right direction," KU coach Mark Mangino said. "When I feel like - and our coaches feel like - we've got the guy that's going to be the starter, we'll make that decision. We don't feel like we're under any pressure to do it quickly."
Meier and Barmann both looked sharp during Saturday's scrimmage, but the assumption that it's Meier's job to lose has merit: Meier ran with the first team the whole day, and Mangino confirmed Meier had been the entire spring.
Barmann had all the touchdown passes in the scrimmage, including a nice 60-yard bomb to Jonathan Lamb late. But Meier looked more than capable, too, playing solid in almost every situation and showing increased recognition of defenses - perhaps the biggest hurdle for freshman QBs to clear.
"There's been good and bad practices," said Meier, sporting shoulder-length blond hair. "Everybody's going to have them. It's just trying to get those good practices more often. I'm going to do whatever I can to put my best stuff out there so the coaches can make their choice easier."
Photo Gallery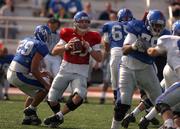 Spring open practice
Wearing red jerseys, quarterbacks can't be touched by defenders during spring drills. That means one phase of Meier's game - tucking and running - wasn't seen much Saturday.
But Mangino praised Meier for how he performed, and there was only one glaring hiccup - an errant pass in the end zone that was picked off by Aqib Talib and returned 45 yards.
"Even through high school, that was one of the keys that brought me down a little bit," Meier said of his goal-to-go play. "But I'm willing to put that work in, and maybe get me over the hump and get that goal-line stuff going."
Meier was one of several newcomers making a public splash Saturday. Freshman running back Angus Quigley got a lot of work, and KU's new-look linebacker fleet, which had Mike Rivera, Joe Mortensen and James Holt on first team, continues its development.
"It was a good day's work here," Mangino said. "Beautiful weather, great facility, and I really liked the way our kids practiced. It was intense. We're finding out a little bit about ourselves as we go."
About 2,500 fans attended Saturday's event, which KU coaches moved to Topeka for several reasons. One was simply to get KU football closer to the fans west of Lawrence. Another was to take the Jayhawk players out of their comfort zone to make it more like a road trip. KU was 6-0 at Memorial Stadium last season, but 1-5 away from home.
Asked if the road trip was a success, Mangino said the verdict would be out until KU played away from home this fall.
But Meier, one of the new guys, liked the change of pace.
"It's just like a road challenge," Meier said. "It's always tough on the road in the Big 12, and it's real good to get out and step on this new grass and see what it's like."
Copyright 2018 The Lawrence Journal-World. All rights reserved. This material may not be published, broadcast, rewritten or redistributed. We strive to uphold our values for every story published.