No need to tell Kansas University's softball players how many one-run games they've lost this season. They know.
"It's 12. It's in the brain," KU shortstop Destiny Frankenstein said, pointing to her head.
KU's one-run losses reached a disappointing dozen when Oklahoma State stole a 1-0 eight-inning victory Saturday afternoon at Arrocha Ballpark.
But the Jayhawks erupted for a 12-0 romp in the second game of a hastily called doubleheader. The two teams were scheduled to play another game today, but opted for the twinbill because of the threat of rain.
"We took out a lot of frustration in that second game," KU coach Tracy Bunge said.
The Jayhawks had opened Big 12 Conference play last week at Texas A&M;, losing twice on walk-off scores in the seventh inning. Saturday's opener against the Cowgirls was in the same heartbreak category.
Junior right-hander Kassie Humphreys threw a no-hitter for seven innings, striking out 11, but her teammates couldn't score, squandering five hits and four walks off OSU's Jessica Hoppock.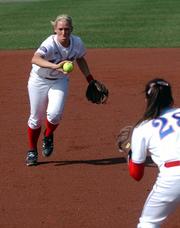 Then in the top of the eighth, OSU's Lauren Kitchens ended the no-no with a ground single to right, and when right fielder Heather Stanley's throw to the infield went awry, Kitchens scooted to second.
Minutes later, after Kitchens had moved to third on a sacrifice, Krystle Sanchez grounded to Frankenstein at short, who checked Kitchens before throwing out Sanchez.
Suddenly, however, Kitchens sprinted for home and beat first baseman Nicole Washburn's throw to catcher Erika Simington by an eyelash.
In the bottom of the seventh, Hoppock, a junior from Wichita, mowed down Frankenstein, Serena Settlemier and Jessica Moppin - KU's 3-4-5 hitters - to secure the improbable victory.
Twenty minutes after that downer, the Jayhawks had to come right back and face Hoppock in the second game.
"We didn't need 20 minutes between games," Frankenstein said. "We were ready to go."
It showed. A half an hour or so after Hoppock had waltzed through Main Street in KU's batting order, they lit her up. Heather Stanley singled, Frankenstein singled, Settlemier doubled in a run and Moppin followed with a two-run double.
"I think we had seen enough of her (Hoppock) that we were on to her," Settlemier said. "I think we were guessing against her in the first game."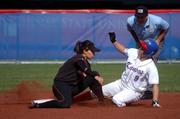 Hoppock was hooked after Moppin's two-bagger, then KU used reliever Kristina Giustozzi as a punching bag, too. Nettie Fierros finished the Jayhawks' four-run first inning with an RBI double off Giustozzi, but more bashing - much more - was yet to come.
Kansas sent 12 batters to the plate in the second inning, scoring eight runs on six hits - including Settlemier's fourth grand slam of the season - and three walks. Settlemier deposited a Giustozzi change-up onto the scoreboard in left-center field .
"I was sitting on the change-up," said Settlemier who adds to school single-season and career records every time she homers. She has 16 homers this season and 38 in her career.
Settlemier also was the winning pitcher in the second game. She pitched three scoreless innings, and freshman Valerie George mopped up with two more.
On the afternoon, Kansas had 18 hits and 27 base-runners, while KU hurlers allowed just four singles, four walks and a hit batter in 13 innings.
"We've really been playing good the last couple of weeks," Bunge said, "but we just don't seem to be getting breaks in certain games."
Kansas (18-17 overall; 1-3 Big 12) will play host to Nebraska at 3 p.m. Tuesday.
Notes: Bunge recorded her 300th victory as KU's coach. She's in her 10th season. : With five RBIs, Settlemier's career total reached 98. The school record is 114 by Camille Spitaleri (1989-92) : Freshman Val Chapple and soph Betsy Wilson collected three hits apiece. : Humphreys threw her best game since tossing a no-hitter and fanning 13 against Stephen F. Austin a month ago at a tournament in Tulsa, Okla.
Copyright 2018 The Lawrence Journal-World. All rights reserved. This material may not be published, broadcast, rewritten or redistributed. We strive to uphold our values for every story published.