Topeka — Spring football is the time to make mistakes, and former Kansas University football player and coach Don Fambrough made a gigantic one Saturday.
Fambrough found himself sitting alone on the wrong bus at KU, and not just any wrong bus. Fambrough, who has kept himself busy in retirement by bashing all things Missouri athletics, mistakenly walked onto the bus of the Mizzou baseball team.
"I ran a 9-flat getting off that bus," Fambrough said from his steel bleacher seat at Hummer Sports Park, where KU marked the midway point of spring practice with an intrasquad scrimmage open to the public.
It was one of those lazy, warm weekend spring days meant to be spent outdoors, and an estimated 2,500 KU football fans decided cutting the grass could wait. From most seats, as much socializing as serious football watching went on.
Fambrough - called the "godfather of KU football" by the man seated to his right, former offensive tackle Tom Gaughan (1970-71) - was diagramming with his index finger the wing-T on the back of Charlie Hoag's shirt to demonstrate just how fast a running back Hoag (1950-52) was: so fast, Fambrough said, "he had to start a yard deeper," so as not to screw up the timing with the QB.
Photo Gallery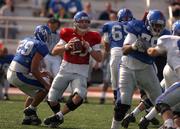 Spring open practice
Even with all the storytelling and people-watching serving as distractions, a modern speedster, Marcus Herford, made you pay attention to football.
He made at least one catch he wouldn't have made last fall and looked like a receiver, not just a sprinter lining up at the position. Herford ran back a kickoff for a touchdown, starting in the middle of the field, cutting to his left and turning on the jets. He had another impressive runback.
"As you could see, he's head and shoulders above where he was last year," KU football coach Mark Mangino said of Herford's progress as a receiver. "He's a young man that the bowl practices helped tremendously. We could see a lot of progress in the bowl practices with him, and he's carried it over into spring. He's got to polish up some things, but he's going to be OK."
Herford said senior Mark Simmons taught him a lot about route-running.
"The way you bend your knees when you cut and running a certain route depth are the big things," Herford said. "The biggest thing that I've worked on and gotten better at is the bend. Playing the ball, that's another big thing you've got to work on. I've worked on that a lot, and I think I'm doing that a lot better."
He said he still had a way to go.
"There are certain depths you have to run on routes, and that helps the quarterback," he said. "Sometimes I run a little longer, and sometimes I run a little shorter. That comes with time. We still have plenty of time."
And there will be plenty of competition for playing time, with Brian Murph leading a pack of returning receivers that includes Dexton Fields, Marcus Henry and Dominic Roux to go with incoming freshmen Tertavian Ingram and Xavier Rambo.
Herford's happy to be part of the competition and not looking back at his days as a quarterback.
"Receiver's more fun," he said. "There's a little more freedom. Quarterback is a little more thinking."
That's Kerry Meier's job, and Herford's job is to make Meier's job easier.
Copyright 2018 The Lawrence Journal-World. All rights reserved. This material may not be published, broadcast, rewritten or redistributed. We strive to uphold our values for every story published.