Tehran, Iran — Italy and Russia sent planeloads of tents, blankets and other supplies Saturday to help 21,000 Iranian families left homeless by three strong earthquakes that hit in quick succession, killing 70 people.
But Iran's government remained silent on whether it would accept an American offer of aid amid heightened tensions between the two nations over Iran's nuclear program.
Iranian authorities were rushing temporary shelter to thousands of victims in towns and villages in western Iran, where residents were sleeping outside in the chilly spring night, fearful of returning even to homes that survived the quakes late Thursday and Friday.
Some 21,000 families were homeless in 330 villages that were damaged or flatted by the quakes, said the provincial head of the Unexpected Disaster Committee, Ali Barani, as quoted by the state news agency IRNA.
But Iranian authorities signaled that they only needed limited outside help - in contrast to a more devastating 2003 earthquake that hit the southeastern city of Bam, killing 26,000 people.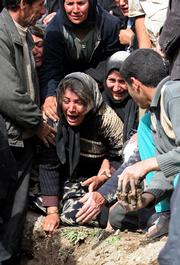 After that disaster, Iran accepted considerable international aid, including from the United States.
Interior Ministry spokesman Mojtaba Mirabdollahi told The Associated Press late Saturday that "all the survivors have received adequate protection and operations providing temporary accommodation is now over."
The quake did not destroy roads, making it easier for officials to quickly get aid to the damaged communities near the quakes' epicenters, 210 miles southwest of Tehran, Mirabdollahi said.
The immediate challenge now for the authorities was to continue providing sufficient food and drinking water to the survivors.
Still, Iran appeared to have accepted help from its close ally, Russia, and Italy.
An Illushin-76 Russian plane carrying 4,000 blankets, 100 large tents and a number of electric heaters - a total of 29 tons of equipment - left Russia for Iran, though Moscow scrapped plans to send rescuers and medical workers after Tehran said they were not needed, the official Islamic Republic News Agency reported.
Italy also sent a plane carrying food, blankets and other humanitarian aid Saturday, IRNA said.
Copyright 2018 The Associated Press. All rights reserved. This material may not be published, broadcast, rewritten or redistributed. We strive to uphold our values for every story published.