Chicago — Kirk Hinrich turned up the aggression after a slow first half.
Hinrich scored 23 of his 25 points after halftime and took a key charge late to help the Chicago Bulls rally for the second time in less than a week to beat the Boston Celtics, 100-94, on Saturday night.
"I just lost myself in the game, started playing with a real aggressive mentality," Hinrich said.
With nine games left, the Bulls (33-40) trail Philadelphia (33-38) by a game for the Eastern Conference's eighth and final playoff spot. After hosting Indiana on Tuesday, Chicago has back-to-back games against the 76ers - at Philadelphia on Wednesday and at the United Center on April 8. The Bulls and Sixers have split the first two games.
The 10th-place Celtics (30-43) trail Chicago by three games and are all but out of the playoff race.
"Even with the win, it would have still been tight," coach Doc Rivers said. "Most likely, we're out of it."
After hitting just two free throws in the first half, Hinrich scored 12 points during a third quarter in which the Bulls rallied from an 11-point deficit to tie it at 74 going into the fourth.
Down 86-79 midway through the final period, the Bulls went on a 12-0 run during which Hinrich scored six points.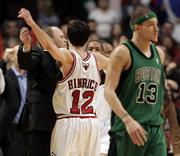 His fadeaway in the lane tied it at 86 with 4:55 remaining, and - after Andres Nocioni's block on Paul Pierce down low - Hinrich gave the Bulls their first lead of the night when he drove the lane with 4:26 left. Luol Deng added a free throw and Hinrich scored another basket to make it 91-86 with 3:55 remaining.
Deng, Ben Gordon and Michael Sweetney each scored 14 points for Chicago, which has won four of five.
The Bulls were 36-for-46 from the free-throw line, their season high for conversions and attempts, while Boston hit 21 of 28 foul shots.
Six days after rallying from 12 down early in the fourth quarter to beat the Boston by four, the Bulls ended the third with a 12-1 run that erased an 11-point deficit and tied it at 74.
A year ago, the Bulls were winning 12 of 13 on their way to their first playoff appearance since the 1998 championship. Not too long ago, they seemed like a team headed back to the lottery. Now, they're doing what they can to avoid it.
The Bulls had lost four in a row and six of eight before this recent run.
"Six to 10 games ago, a lot of us didn't realize the position we were in," Hinrich said.
Asked to clarify, Hinrich said, "I'd never been in a position like that. ... I don't know how easy it is to pick up games or what it's going to take."
Wally Szczerbiak led the Celtics with 28 points, and Pierce added 18.
Cavliers 106, Heat 99
Cleveland - LeBron James scored 47 and posted his 10th career triple-double, outdoing Dwyane Wade and leading the Cavaliers to their seventh straight win.
Each time the Cavaliers got close, Wade, who finished with 44 points, would hit a three-pointer or make a highlight-reel drive to the rim for the Heat, who were without Shaquille O'Neal.
Bucks 96, Pacers 89
Milwaukee - Michael Redd scored 20 of his 39 in the third quarter, and the Bucks set an NBA record with only two turnovers. The previous mark for fewest turnovers in a game was three, accomplished seven times.
Jermaine O'Neal had 27 points, nine rebounds, five assists and four blocks for the Pacers.
Spurs 106, Wizards 99
San Antonio - Manu Ginobili scored 16 of his 22 in the fourth quarter, and the Spurs came back from a 10-point deficit to beat Washington. Tony Parker added 24 of his 28 points in the second half for the Spurs, who have won three straight.
Jazz 102, Trail Blazers 89
Portland, Ore. - Andrei Kirilenko had 23 points and 13 rebounds to help Utah hand Portland its 10th straight loss.
The Jazz moved into a tie for ninth place in the Western Conference with New Orleans. Utah is two games behind Sacramento.
Copyright 2018 The Associated Press. All rights reserved. This material may not be published, broadcast, rewritten or redistributed. We strive to uphold our values for every story published.