Photo Gallery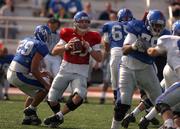 Spring open practice
Topeka — Kansas University football coaches had a complex scoring system in place for Saturday's scrimmage at Hummer Park, and the defense won, 86-85.
Several situations were awarded with points, many having to do with yardage and turnovers, to make a competition out of it. For example, if the offense converted a first down, it was awarded one point. If the defense forced a fourth down, it earned two.
Aqib Talib intercepted a Kerry Meier pass in the end zone near the end of the scrimmage and returned it 45 yards. That caused a 12-point swing that let the defense prevail.
Copyright 2018 The Lawrence Journal-World. All rights reserved. This material may not be published, broadcast, rewritten or redistributed. We strive to uphold our values for every story published.