City commissioners began to caution that a rate increase may be necessary to fix the city's sewer crisis that is slowing development in the northwest part of the city.
"My fear is this is probably going to cause us to take another look at a rate study," City Commissioner David Schauner said Friday at a special "sewer summit" attended by about 50 developers, engineers and city leaders. "My fear is we're not going to have the funds."
But the summit also produced concerns that the city's proposed short-term fix may take years longer than the city anticipates. And the special meeting created long-term questions about whether the way the city's sewer system is run should be dramatically changed by creating a powerful public utilities board that would oversee the system.
Rate talk
The summit didn't produce specific cost estimates to implement a short-term plan to fix an overloading of the sewer system, but leaders conceded it would be several million dollars - most of which was not budgeted for this year.
Those costs are what could lead to a need to increase the monthly sewer bills that city residents pay. The move would likely produce concern among ratepayers because the city has implemented sewer rate increases of about 10 percent in both 2005 and 2006 in anticipation of building a $75 million sewer treatment plant along the Wakarusa River.
Commissioners - who stressed they weren't certain that a rate increase would be needed - did not give an estimate of how much rates might need to increase. Staff members also said that the commission would need to have a discussion about whether developers in the area should be asked to pay for some of the costs related to the short-term fix.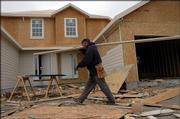 But city commissioners were told Friday that they must do something to fix the problem. The city has held up a number of single family neighborhoods and commercial developments in the area north of Sixth Street and west of Kasold Drive amid concerns that the new development would overfill sewer pipes and cause basements and homes downstream of the developments to suffer sewer backups.
"I'm here to tell you that we're in a shutdown mode," Phil Struble, president of Landplan Engineering, said of the ability to build new developments.
Finding solutions
Staff members said city commissioners would be presented with options within the next two weeks detailing how the northwest system could be fixed to handle additional sewage quickly. The city plan includes adding larger pumps in a station near Sixth Street and Queens Road, enlarging pipes near Lake Alvamar in West Lawrence and building a new pump station in northern Lawrence near the Kansas Turnpike.
Parts of the city plan could be completed in about 12 weeks, while the new pump station could take as much as two years. But Debbie Van Saun, assistant city manager, said developers could begin building their projects sooner than that because the sewer hookup isn't needed until people actually begin to move into the homes or businesses.
The city's plan could be controversial because developers left Friday's meeting concerned that the city's timeline wasn't realistic and could leave approved projects waiting for several years before they could be connected to a city sewer.
"Being someone who has worked on projects like this, I know that they can just eat up a tremendous amount of time," said Struble, who said a new pump station could take longer than the city anticipated because it would involve significant numbers of easements and property acquisitions.
Instead, developers want the city to enlarge the pipes near Lake Alvamar and add the new pumps at the Sixth Street and Queens Road location, but also add new pumps at an existing pump station farther west of that site and add a pump station near Free State High School.
City staff members said that the developers' plan could create immediate sewer back-up problems in other areas south of Sixth Street. Developers didn't agree with that analysis.
Commissioners directed members of the city's Utilities Department to hear more about the developers' plan and analyze it further and bring comments back to the commission.
Utilities board
Staff members also were directed to look at what could be a far-reaching proposal to create a public utilities board that would oversee the city's sewer system and perhaps its water utility as well.
City Commissioner Mike Amyx said he wanted the idea studied because he questioned whether city commissioners were the best-equipped people to make decisions about highly technical sewer systems.
"Rather than us dealing with a 125-page document on a Tuesday night trying to get answers, we would have a board working on this on a regular basis," Amyx said.
Commissioners, though, didn't go into exact details about how a public utilities board would work. Some utilities boards have broad authority to spend money generated by the utilities and also to set utility rates. Other boards serve more as an advisory board to a city commission. Amyx said the city could use the board structure of the city-owned Lawrence Memorial Hospital as a model. That board controls all spending decisions for the hospital and is responsible for overseeing all its operations. The board members are appointed by city commissioners.
Staff members said they would gladly research the options, but also sought to assure the crowd that steps had already been taken to ensure that future sewer problems wouldn't creep up on the city again. David Corliss, the city's new interim city manager, made no bones about telling the audience that city staff members shouldered much of the blame for the current situation.
"We know there were mistakes made in City Hall as far as implementing the wastewater master plan," Corliss said. "A lot of that is why we are here today."
Specifically, Corliss said that staff had not focused enough on confirming that actual development that was occurring was in line with what was predicted in the wastewater master plan. Around June 2005, staff members discovered that development in the northwest area of town was significantly outpacing what was projected in the master plan.
Copyright 2018 The Lawrence Journal-World. All rights reserved. This material may not be published, broadcast, rewritten or redistributed. We strive to uphold our values for every story published.