Ideally, it will be an intact skull.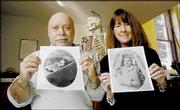 "Hopefully, we'll expose a beautiful face - a skull, that's what we're hoping for," anthropologist Dennis Van Gerven said Friday after a judge approved his request to dig up a 127-year-old grave in Lawrence to determine the identity of the remains inside. "It could be dust ... (or) it could be a very well-preserved skeleton."
Van Gerven, a University of Colorado anthropology professor, and colleague Marianne Wesson, a CU law professor, couldn't hide their excitement Friday after Douglas County District Court Judge Paula Martin granted their request to exhume a body in an unmarked grave at Lawrence's Oak Hill Cemetery.
The professors hope to determine as soon as next month whether the person in the grave is John Hillmon or Frederick A. Walters - a century-old controversy that led to the creation of an important piece of federal evidence law in the late 1800s.
The dig likely will happen in mid-May. Martin gave her approval with the professors' pledge that the remains would be returned to the grave within 48 hours and that the process would be handled in a dignified way.
Van Gerven said crews would dig only two feet into the ground with heavy machinery. From that point on, a team will dig by hand - carefully sifting through each layer until they spot the coffin.
They'll remove the bones - if there are any - and take them to a lab on the Kansas University campus, where they'll clean and photograph them. Van Gerven said that if the skull was in good enough shape, he would be able to take a photo of it and superimpose it on photographs to see which man it matches.
He said the bony bridge of Hillmon's nose was distinctively different from Walters'.
If there's only dust in the grave, a small sample will be taken for DNA testing.
At the time of Hillmon's death in 1879, life insurance companies suspected Hillmon of fraud. They alleged he and a companion had killed a third man - Walters - to collect on Hillmon's life insurance.
The case was tried six times and taken up by the U.S. Supreme Court twice. The court's first ruling created an exception to the "hearsay" rule that allows out-of-court statements by third parties to be used as evidence if they describe the intentions of the speaker or the writer.
The piece of evidence in question was a letter that lent support to the theory that it wasn't Hillmon in the grave. Wesson said she believed the Supreme Court's decision to allow the letter was based partly on the justices' belief that Hillmon was not dead - and that the court had wanted the letter admitted to help prove it.
Scholars will view the court's decision differently, she said, if it turns out to have been Hillmon all along.
Oak Hill Cemetery
Copyright 2018 The Lawrence Journal-World. All rights reserved. This material may not be published, broadcast, rewritten or redistributed. We strive to uphold our values for every story published.