Detroit — The Chicago White Sox hooted, hollered and screamed like kids as they ran down a skinny hallway toward their plastic-lined clubhouse.
After flirting with one of the worst collapses in baseball history, the White Sox earned the right to douse each other with champagne.
Chicago got a clinch, not a collapse.
Paul Konerko homered to back Freddy Garcia, and the White Sox held off Detroit for a 4-2 victory Thursday for their first AL Central title since 2000.
"That team worked so hard all year long, they deserve to do what they're doing now," Chicago manager Ozzie Guillen said with champagne-slicked hair. "Finally, they can say, 'We did it!' A lot of teams made it tough on us. It wasn't easy."
Chicago had a 15-game lead in the division Aug. 1, then saw it dwindle to 11â2 games last weekend as Cleveland closed. The White Sox survived a shaky ninth inning against Detroit to win their AL-best 96th game and will start the playoffs at home next week.
"It was a little tight at the end, but we pulled it out," Konerko said.
Chicago clinched because Cleveland can at best tie the White Sox, and no team can finish second in another division with 96 wins or more. If the AL Central is decided by a tiebreaker, it would go to the White Sox, who have an 11-5 lead over the Indians in the season series, and Cleveland would be the wild card.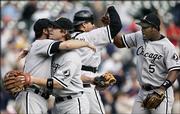 "It's a great feeling," Guillen said. "This first step is a big step because a lot of people don't realize how hard it is to just get to the playoffs."
Indians 6, Devil Rays 0
Cleveland - C.C. Sabathia pitched eight shutout innings, Travis Hafner homered, and Cleveland stayed atop the AL wild-card standings.
In salvaging the series finale, the Indians snapped a three-game losing streak that helped Chicago hold onto its dwindling division lead and clinch the AL Central.
Red Sox 5, Blue Jays 4
Boston - David Ortiz tied the game in the eighth inning with his 47th homer, then singled home the winning run in the ninth to give Boston a critical victory over Toronto. Rookie Jonathan Papelbon (3-1) pitched 22â3 scoreless innings for the win, and Manny Ramirez hit a two-run homer in the sixth off Jason Frasor that cut the deficit to 4-3.
Yankees 8, Orioles 4
Baltimore - Aaron Small took a one-hitter into the seventh inning to improve to 10-0, and New York received homers from Jason Giambi and Hideki Matsui in cruising past Baltimore.
Mariners 4, Rangers 3
Seattle - Kenny Rogers gave up all four Seattle runs in what likely was his final start for Texas.
Angels 7, Athletics 1
Oakland, Calif. - Bartolo Colon became the Angels' winningest pitcher since Nolan Ryan in 1974. Colon (21-8) gave up one run and five hits in five innings.
Copyright 2018 The Associated Press. All rights reserved. This material may not be published, broadcast, rewritten or redistributed. We strive to uphold our values for every story published.