Rusty Wallace and Mark Martin have been racing against each other for more than two decades. And as they prepare to leave the Nextel Cup circuit, they're going out as a couple of contented warriors of the road.
"Personally, I'm the happiest I've ever been in my life, and I want to say that right now," Martin said. "There are a lot of reasons for that. Number one is the fans and what they've done and how they've responded this year. How they've supported me has been overwhelming."
Martin, perhaps the greatest driver never to win NASCAR's ultimate prize, is the sentimental favorite this year. And it could happen, with Martin just 21 points from the lead after two of the 10 season-ending Chase for the Championship races.
Wallace, who won the Cup in 1989, is even closer, just seven points behind leader Jimmie Johnson. Does that tempt the 49-year-old driver to reconsider his retirement plans?
"It does make you think twice," he said last weekend at Dover International Speedway. "But, on the other hand, I've made the right decision."
What's been billed as "Rusty's Last Call" is just that. He's showered with gifts and salutes as he visits each track for the last time
But Martin - despite his fan-inspired logo "My Salute to You" - will be back next season in Roush Racing's No. 6 Ford. He didn't plan it that way, but was talked into it by car owner Jack Roush when newly hired Jamie McMurray was unable to get out of the last year of his contract with Ganassi Racing.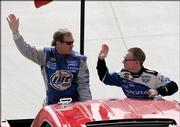 After that, he'd rather drive a truck. Martin will be doing that full-time in 2007, when he moves to the Craftsman Truck Series. The 45-year-old driver is happy that the lighter demands of the truck series will enable him to spend considerably more time with his family.
"Their support on what I'm trying to do really makes me feel good," he said.
That backing was essential to Martin, who had announced this would be his last season in Cup racing. Then Roush leaned on him to stay one more year.
Martin laughed when asked if his was the shortest retirement on record.
"That's funny, but I said over and over and over that I'm not retiring," he said. "I'm too young to retire. I'm going to continue racing cars."
Had the truck deal not worked out, had Roush not pleaded with Martin to return, he was not through burning rubber.
"You might see me at your local short track on Saturday nights, because I'm going to be racing," he said.
The decision to stay another season in the Cup car was as much about Martin's crew as it was his loyalty to Roush. The car owner brought Martin in from the ASA short-track circuit, where he and Wallace won championships in the 1970s and 80s, and helped him become one of the greats of his era.
"They want me to fill the seat for one more year until they can be prepared," Martin said. "I'm not going to let them down."
Wallace, who has 55 career victories, and Martin, who has 34, are turning their twilight laps in what has become a more pressure-packed sport, where millions of dollars are at stake each week and hungry young drivers are being far more aggressive on the track.
It got so bad earlier this month in New Hampshire that NASCAR sanctioned three drivers. Last Sunday at Dover, NASCAR president Mike Helton warned everyone to knock off the rough stuff. Wallace said Helton wants hard racing and excitement, but is looking for drivers to have the kind of respect he and Martin have shown each other for so many years.
Copyright 2018 The Associated Press. All rights reserved. This material may not be published, broadcast, rewritten or redistributed. We strive to uphold our values for every story published.