Baghdad, Iraq — Three suicide attackers exploded near-simultaneous car bombs in the heart of a bustling, mainly Shiite town Thursday, killing at least 60 people and wounding 70 amid a new surge of violence before an Oct. 15 referendum on Iraq's constitution.
Apparently aimed at killing a large number of Shiite civilians, the string of bombings started just before sunset when the first blast ripped through an open-air market crowded with Iraqis buying vegetables. The next bomb exploded at a bank just yards away, followed by a third on a nearby street of clothing shops.
Sunni insurgents have vowed to wreck the referendum, whose passage is crucial to prospects for starting a withdrawal of American troops. Al-Qaida in Iraq has declared "all-out war" on the Shiite majority that dominates Iraq's government, and moderate Sunni Arab leaders called on their community to reject the constitution, saying it will fragment Iraq and leave them weak compared to Shiites and Kurds.
The U.S. ambassador has been struggling to negotiate changes to the charter in hopes of winning Sunni Arab support. Frustrating his efforts, Sunnis said U.S. troops raided the homes of two Sunni leaders on Thursday, fueling their sense of alienation in the political process.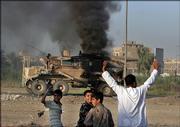 Also Thursday, the U.S. military announced the deaths of five U.S. soldiers Wednesday in a roadside bombing during combat in Ramadi, west of Baghdad, a hotbed of Iraq's insurgency.
It was the deadliest single attack against American troops in more than a month, bringing to 1,934 the number of U.S. service members who have died since Iraq's war started in March 2003, according to an Associated Press count. More than 140 people, including 13 U.S. service members, have been killed in the past four days.
Until Thursday, however, Balad - 50 miles north of Baghdad and the site of a major U.S. military air base - had seen few major attacks.
Most of the 60 casualties were civilians, though among the 70 wounded were the police chief and four officers, said Dr. Khaled al-Azawi, of Balad Hospital. Hassan said the toll could reach 75 dead and 100 wounded, saying there were still victims at the scene.
Copyright 2018 The Associated Press. All rights reserved. This material may not be published, broadcast, rewritten or redistributed. We strive to uphold our values for every story published.