Kansas City, Mo. — The Kansas City Royals signed third baseman Alex Gordon, the second overall pick in the June draft, on Thursday to a minor-league contract that includes a $4 million signing bonus.
The team projected a quick rise through the minors for the hard-hitting third baseman from Nebraska.
"He's a highly skilled player," Royals scouting director Deric Ladnier said at a news conference. "Obviously, his credentials speak for themselves. We just need to get him some at-bats so we can assess where he is and where he starts next year."
The 6-foot-1, 215-pound Gordon is the highest first-round selection in club history. He was due to report to Arizona later Thursday to begin play in the Instructional League.
A two-time Big 12 Conference Player of the Year at Nebraska, he hit .353 with 44 homers and 189 RBIs in his three-year career. As a junior, he batted .372 with 19 home runs and 66 RBIs, earning the Golden Spikes Award as USA Baseball's top amateur player and sweeping the collegiate player of the year awards.
Gordon led the Cornhuskers to this year's College World Series, after they won both the Big 12 regular-season and tournament titles - but he said at Thursday's news conference that he had no intention of returning to school for his senior season.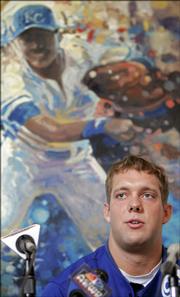 "Even though I had a great experience with Nebraska, I knew it was time to move on," he said. "I know it came out in the papers that I was going to head back, but that was just speculation."
Gordon also said he had no intention of holding out, working out over the winter and re-entering the draft in June.
"It was kind of a long process I had to go through, but I knew it was going to work out for the best," he said. "It was kind of hard to see some of my teammates go off and start playing and do well, but I got to spend some time with my family, which I hadn't gotten to do in years."
While the Royals expect a relatively quick ascent to the majors for Gordon, general manager Allard Baird said they had set no timetable.
"We let the ability of the player dictate how fast he comes along," Baird said. "He's an advanced college hitter, and that makes a difference."
Depending on how quickly Gordon moves through the minors, the Royals could find themselves with one too many young third basemen. Rookie Mark Teahen was hitting .244 going into Thursday night's game at Minnesota - and if anyone has to change positions, Ladnier said, it won't be Gordon.
Copyright 2018 The Associated Press. All rights reserved. This material may not be published, broadcast, rewritten or redistributed. We strive to uphold our values for every story published.