New Orleans — The police department has launched an investigation into whether officers participated in the giant looting spree that overtook the city after Hurricane Katrina, a spokesman said Thursday.
News reports in the aftermath of the storm put officers at the scene of some of the heaviest looting, the Wal-Mart in the Lower Garden District. Some witnesses - including a Times-Picayune reporter - said police were taking items from shelves.
"Out of 1,750 officers, we're looking into the possibility that maybe 12 officers were involved in misconduct," police spokesman Marlon Defillo said.
He rejected the use of the term "looting," but said authorities were investigating "the possibility of appropriation of non-essential items during the height of Katrina, from businesses."
Earlier this week, the city's police superintendent, Eddie Compass, resigned, as the looting reports gained currency, along with intense questioning of earlier police claims of widespread violence after the storm.
The tone was more upbeat Wednesday as Mayor Ray Nagin invited business owners back into the city and prepared to allow most residents to return over the next week.
Streams of cars filled with business owners started to make their way back into newly reopened sections Thursday morning, some vowing to rebuild their city, some saying they were pulling out. Those who had already slipped in were ready to welcome back their fellow business owners and patrons.
At Igor's, a pub and coin laundry in the city's Garden District, owner Halina Margan had returned after Katrina - and never left, despite Hurricane Rita's threat last week. She was ready to open for business on Thursday.
"Igor's has never closed until this nasty little ... hurricane," Margan said. "It's lonely here. We need people."
As the morning wore on, signs of life started to emerge up and down the district. Blues music poured out the door of Slim Goodies diner, where by 10 a.m., owner Kappa Horn had already served pancakes, bacon and two eggs over easy on a plastic plate to more than 100 people.
Photo Gallery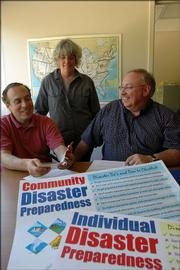 Hurricane Katrina
"This is the first hot meal I've had in a month," said George Wichser, a Tulane University police officer who rode out the storm on campus.
Brig. Gen. Robert Crear, with the U.S. Army Corps of Engineers, said that 1 million cubic yards of debris has been removed from Louisiana to date. The first priority is to remove debris from emergency facilities such as hospitals and fire stations. Then workers will focus on clearing roadways, then turn their attention to debris placed on curbsides.
Louisiana's official death toll from Katrina rose to 896 on Wednesday. Only 32 bodies have been positively identified and released to funeral homes chosen by their families, said Dr. Louis Cataldie, who leads the body recovery process in Louisiana.
Copyright 2018 The Associated Press. All rights reserved. This material may not be published, broadcast, rewritten or redistributed. We strive to uphold our values for every story published.