Southern California brings a 25-game winning streak into Sun Devil Stadium, a place where college football's two most recent notable winning streaks have come to an end.
Six games matching unbeaten teams are on the schedule Saturday, but top-ranked USC's game at No. 14 Arizona State (2-1) probably is the most significant.
The two-time defending champion Trojans (3-0) have looked unbeatable, outscoring opponents 178-47, but history and location might be on the side of the Sun Devils.
The 2003 Fiesta Bowl played in Tempe was the site of one of college football's greatest games, Ohio State's 31-24 overtime victory over Miami, which gave the Buckeyes a national title and snapped the Hurricanes' 34-game winning streak.
In 1996, Nebraska was coming off two straight national titles when Arizona State and Jake Plummer knocked off the Cornhuskers, 19-0, and broke their 26-game winning streak.
A victory by USC over the Sun Devils this week would break the school and Pac-10 records for longest winning streak. The Trojans won 25 straight from 1931-33.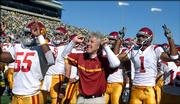 "I didn't even know it," USC coach Pete Carroll said. "Those things are great, but just winning this football game is way more important."
Of the six games matching unbeatens, only one features two ranked teams: No. 5 Florida (4-0) is at No. 15 Alabama (4-0) in the Southeastern Conference's game of the week. The only other time the Gators and Crimson Tide have met with both teams unbeaten was 1964.
The other games feature ranked teams against others trying to prove their perfect records are legit.
No. 23 Iowa State (3-0) is at Nebraska, where the Cornhuskers are 3-0 despite one of the worst offenses in the country.
No. 18 Minnesota (4-0) visits Penn State. The Nittany Lions are 4-0 for the first time since 1999.
Kansas (3-0) plays at No. 16 Texas Tech (3-0). Both teams have much to prove after playing laughable nonconference schedules that included a total of three Division I-AA teams and three Sun Belt Conference members.
No. 3 Virginia Tech (4-0) plays at rival West Virginia (4-0), a series that ends after 33 straight years following Saturday's matchup. The Hokies' move from the Big East to the Atlantic Coast Conference is the reason the series is ending.
Indiana is 3-0 for the first time since 1994. The Hoosiers take a serious step up in competition at No. 17 Wisconsin (4-0).
The picks:
No. 1 Southern California (minus 16) at No. 14 Arizona State
Trojans down to three scholarship CBs ... ARIZONA ST. 44-38.
No. 2 Texas (minus 141â2) at Missouri
Tigers' Brad Smith needs 108 yards rushing to set Big 12 Conference record for QBs ... TEXAS 39-14.
No. 3 Virginia Tech (minus 101â2) at West Virginia
Hokies have won eight of 11 against Mountaineers ... VIRGINIA TECH 33-13.
No. 4 LSU (minus 141â2) at Mississippi State
LSU has won five straight against Bulldogs, averaging 42 points ... LSU 35-10.
No. 5 Florida (minus 31â2) at No. 15 Alabama
Gators have won seven of 10 against Tide ... ALABAMA 20-16.
Syracuse (plus 21) at No. 6 Florida State
Seminoles making strides offensively ... FLORIDA STATE 33-10.
South Florida (plus 21) at No. 9 Miami
Bulls go for second straight stunner ... MIAMI 30-17.
Mississippi (plus 21) at No. 10 Tennessee
Rebels play in Knoxville for first time since 1997 ... TENNESSEE 36-13.
Michigan (plus 51â2) at No. 11 Michigan State
Wolverines have won seven of 10 against Spartans ... MICHIGAN STATE 33-24.
Arizona (plus 16) at No. 12 California
Cal RB Marshawn Lynch expected to play ... CAL 27-14.
No. 13 Notre Dame (plus 3) at No. 22 Purdue
Purdue looking to win three straight in series for first time since 1967-69 ... NOTRE DAME 27-24.
Kansas (plus 171â2) at No. 16 Texas Tech
Finally, a little competition for Red Raiders - very little ... TEXAS TECH 50-20.
Indiana (plus 171â2) at No. 17 Wisconsin
Haven't met since '02, but Hoosiers won previous two ... WISCONSIN 37-10.
No. 18 Minnesota (minus 21â2) at Penn State
Gophers have won four straight against Lions ... PENN STATE 31-24.
No. 19 Virginia (minus 31â2) at Maryland
Home team has won last four meetings ... MARYLAND 21-17.
Washington (plus 211â2) at No. 20 UCLA
Bruins have won last four and seven of eight meetings ... UCLA 54-23.
Ball State (plus 38) at No. 21 Boston College
Cardinals allowing 53 points per game ... BOSTON COLLEGE 53-14.
No. 23 Iowa State (plus 31â2) at Nebraska
Cyclones have lost 13 straight in Lincoln ... IOWA STATE 26-17.
Florida Atlantic (plus 38) at No. 24 Louisville
Cardinals bounce back ... LOUISVILLE 60-14.
Copyright 2018 The Associated Press. All rights reserved. This material may not be published, broadcast, rewritten or redistributed. We strive to uphold our values for every story published.