Oskaloosa — During a telephone conversation with his wife from his office, Oskaloosa High principal Brad Reed slipped into Steve Spurrier mode, referring to himself in the third person as "the ol' ball coach."
It's a fitting label. Like Spurrier, Reed is trying to prove a coach can go home again. However, while the former is simply returning to college football after a troubled two-year stint in the NFL, the latter is back in the game after a much longer hiatus.
It has been 16 years since Reed last called the shots as a high school football coach. That didn't stop Loren Lutes, Oskaloosa's superintendent of schools, from asking him to perform a rare daily double - handing out detention slips by day, dishing out wind sprints by night.
"We knew it would make him a very busy individual," Lutes said.
Reed thought he had put the wraps on his high school coaching career in 1989, following his one season as the head man at Ulysses High in southwestern Kansas. The next fall, he made the switch from teaching and coaching to administration, a career path that ultimately led Reed and his family to Oskaloosa in the fall of 2001, when he accepted an offer to become the new high school principal and help turn around a school that had been denied full accreditation by the state of Kansas the previous spring.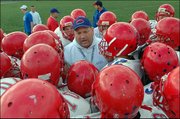 Moving to Oskaloosa was the right fit on several fronts. It provided Reed with a professional challenge, allowed him to begin pursuit of a doctorate degree at nearby Kansas University, and provided a warm, small-town schooling environment for son Blake, now 22 and a student at Harding University in Searcy, Ark., and daughter Megan, now 17 and an Oskaloosa High senior.
Under Reed's guidance, Oskaloosa has made giant strides. The school has regained its state accreditation and expects to receive full accreditation from the North Central Assn. - the top mark a Kansas high school can receive - at the end of this semester.
However, to the dismay of many whom call the community home, one area where Oskaloosa wasn't holding up its end of the deal was on the football field.
"Over the last four years, our program has steadily declined," Reed said. "Not only did we not have any wins last year, I guess it could be argued that we had the worst football program in the state.
"We were just in sad shape."
When former coach Terry Porter stepped down last November with a 1-17 mark in two years, Reed had a clear picture of the type of coach the administration needed to bring aboard to resurrect the program.
"We knew that we needed somebody who had experience, and preferred somebody who had a background that was a proven winner and could turn our program around," Reed said.
It turns out he was writing his own job description.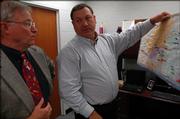 "I just went to him and said, 'Look, we need to give our students the best high school football coach we can find, and I know who that is,'" said Lutes, recalling his initial conversation with his high school principal regarding the position.
At first, Reed wasn't interested. However, after two months of ongoing conversations, he accepted the job in January and told Lutes he'd commit to three years in an effort to rehabilitate a football program that had won just once in its previous 22 outings.
"I'm hoping by the end of the third year that we can have the program in good enough shape that we can attract the kind of coach we want to attract," Reed said.
Baby steps
The Kansas High School Activities Assn. keeps no official records of administrators who also serve as a varsity head coach in a given sport, and Rick Bowden, an assistant executive director with the KSHSAA, said he didn't know if Reed was the only principal wearing both hats right now - in itself an admission that it doesn't happen often.
Even should Reed have company in this rare fraternity, chances are he stands alone when you factor in the additional forces that pull and tug at his time and attention.
For instance, by the time his stint as Oskaloosa's football coach comes to an end, Reed will have a new title to add to his growing list. In addition to being Principal Reed and Coach Reed, he'll also be Dr. Reed, with work on his doctorate in educational administration scheduled to be completed next summer.
And then there's the moniker that's most near and dear to his heart - Dad.
As if running a school and putting the finishing touches on another level of education in his field wasn't enough, Reed had another factor to consider while playing tug-of-war with Lutes' coaching offer - his wife, Sharon, was pregnant with the couple's third child.
A definite dealbreaker, right?
"I was all for it," said Sharon Reed, herself a former coach who still works part-time as an adaptive physical education teacher. "We really did want to see the guys have some success if they possibly can. I guess I'm just real confident in his abilities as a coach."
So when little Cooper Reed came into this world on April 11, his old man already was three months into his newest tenure as the ol' ball coach.
To say life has been a major adjustment compared to this time a year ago would be a massive understatement.
"Last year, it just kept on coming, one after another," Sharon Reed said. "I was like, 'What is going on?'
"(But) it's not everything that happens to you. It's how you react."
Teaching the game
The reaction to having the high school principal double as the head football coach has varied, depending on the time of year.
"It was kind of a shock to me at first. I didn't really expect it," said senior Cody Steffey, a defensive back/wide receiver for the Bears, about his initial thoughts when the announcement was made. "But once I got to talking with him a little bit, I liked it. I liked the interaction."
"Surprised, really surprised," added senior Joel Houk, who plays tackle on both sides of the ball. "I'd heard a lot about his past coaching record. ... He was pretty successful in the past (and) we were kind of tired of losing."
The shock gave way to support as Reed and his coaching staff - assistants Jon Pfau, Scott Whaley, Doug Beisel and Rob Miller - began to implement their plan for helping Oskaloosa turn the corner.
From Reed's vantage point, two specific areas needed to be addressed as the Bears embarked on the 2005 season.
"Probably the biggest things we've had to overcome is, one, a very, very low fundamental development by the kids. They just haven't been taught football. Our kids just haven't been taught the basics," Reed said. "And just getting kids to really believe in themselves that they can win. When you've lost 22 of 23 games, you think you're going to lose the next one.
"And then we're a young team. That makes it even tougher."
Thus far, the results have been a mixed bag - a positive step for a program that, for the better part of the last three years, has been left holding an empty one.
The Bears' sophomore-laden lineup has taken its lumps, facing the wrong end of a combined 95-38 score in losses to Troy, Valley Falls and Jackson Heights this season.
Still, the game that's made those results worth it all took place in Week 2, when Oskaloosa knocked off Jefferson County North, 22-21, for its first win since the midpoint of the 2003 season.
"If you could have been here (that) night and saw the reaction of our student body and our players and our fans and our community ... if I say it was huge, that's an understatement," Reed said.
"It was like no other feeling in the world," Steffey said. "But I feel that we can win more ballgames than just that game.
"I want the Class of '06 to be known as the class that turned the football program around."
It's too early in the Reed tenure to know whether that will come to fruition. Yet it's readily apparent the lessons in confidence and self esteem are taking hold.
Copyright 2018 The Lawrence Journal-World. All rights reserved. This material may not be published, broadcast, rewritten or redistributed. We strive to uphold our values for every story published.