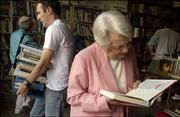 Thousands of books will be available in the fall Friends of the Library book sale, above, at the Lawrence Public Library, 707 Vt.
Proceeds from the sale assist the library with improvements, such as purchasing books and computers.
Sale hours are from 10 a.m. to 8 p.m. today; 10 a.m. to 6 p.m. Saturday; 1 p.m. to 6 p.m. Sunday; 5 p.m. to 8 p.m. Monday and Thursday; and 10 a.m. to 4 p.m. Oct. 8.
On Sunday, books will be half-price. Shoppers will be able to get a bag of books for $7 on Monday and for $5 on Thursday.
Copyright 2018 The Lawrence Journal-World. All rights reserved. This material may not be published, broadcast, rewritten or redistributed. We strive to uphold our values for every story published.