New Orleans — Roberta Stewart picks through the muck layering the first floor of her home, her bare legs splattered in mud, her eyes surveying the putrid mess from behind a gas mask. Now that Hurricane Katrina's floodwaters have ebbed, she asks, who will help her rebuild?
"The (builder) I was going to use, who I trust, is in Fort Worth because he lost his house," Stewart said. "I'll have to find another contractor."
That could be a tall order.
With hundreds or even thousands of builders wiped out by Katrina - their tools lost and workers scattered - homeowners looking to rebuild quickly are in for a shock.
The scope of home destruction is so sweeping that it will likely stretch rebuilding for years. It took more than a decade to reconstruct all the homes destroyed by Hurricane Andrew, after it hit Florida in 1992. Katrina destroyed 10 times as many homes as Andrew.
The difficulty of rebuilding could be exacerbated because Gulf Coast contracting has long been the province of small, independent companies without the deep pockets to recover quickly. That has spurred out-of-state contractors to pour into the region, increasing competition for labor and driving up prices.
When the region's contractors do get back on their feet, most of their time will be directed at repairing homes that are salvageable, not rebuilding ones that were destroyed, industry experts say.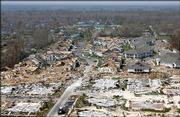 About 9,000 contractors belonging to the National Association of Home Builders are based along the Gulf Coast. While there is no reliable estimate of how many of them were put out of commission by the storm, the group says it is likely in the thousands.
"They're not in a position to help right now," said Jerry Howard, the group's CEO.
Builders wiped out
That's clear in the story of Ronnie Wirth, who ran a construction company from his home, in a neighborhood flooded when a canal breached. Wirth's house and business are gone. So are the six homes he was in the process of building.
All his equipment is beyond repair. Subcontractors and employees are scattered across the South. He is sending his water-logged computer to a company in hopes of rescuing the hard drive that contains all his records and contacts.
"We've been wiped out," he says. "The business was insured, but of course we didn't have enough for this type of damage. Everybody's in the same boat right now."
Even contractors who weren't directly hit by the storm are feeling its effects. Phil Hoffman, a custom builder who escaped damage, said many of his suppliers and workers lived in flooded parts of New Orleans.
"Some of them haven't come back home yet and some of them won't even have a place to come home to," he said.
Prices soar
Photo Gallery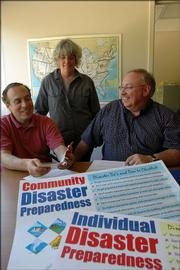 Hurricane Katrina
Demand for the few workers left is skyrocketing.
"Our builders say they are having trouble keeping their normal crews because people are literally buying them off job sites," said Marty Milstead, head of the Home Builders Association of Mississippi. One Gulf Coast roofing company reported losing two of its crews in a single day, he said.
Companies with workers are paying them more than before, and charging far higher prices. New Orleans roofers are charging $120 for every 100 square feet, nearly triple the going rate before Katrina.
In Biloxi, Miss., building has resumed on houses that had been under construction. But the cost per square foot has increased from $80 to $99, real estate agent Nancy Stone Bourgeois said.
The demand was obvious this week at a Home Depot in Gulfport, Miss., where customers' cars stretched from the entrance out to the street. Contractor Robert Mackley of Gulfport, with a pickup truck full of lumber, said people have to understand why contractors are raising their rates.
"It's supply and demand," he said. The increased cost of materials and strain put on the industry because of hurricane damage over the past two years in Florida "didn't help anything. It's going to drive everything up."
Long-term consequences
Getting contractors back in business is only one impediment to rebuilding.
The appetite for construction materials and labor in the Gulf Coast will be voracious over the next few years, which could raise prices of wallboard, cement, Southern yellow pine and other building materials, said Robert Murray, an analyst with McGraw-Hill Construction Research and Analytics.
Katrina has already boosted the prices of lumber, plastic piping and scrap steel - from which rebar is made - said John Mothersole, senior economist at forecasting firm Global Insight. But he said the price spikes could be moderated by softening demand elsewhere in the U.S. housing market as interest rates go higher.
Gulf Coast homeowners also must be wary of fly-by-night builders, scores of whom descended on Florida after Hurricane Andrew.
"It really gave our industry a black eye. We learned that we had to be much more proactive in encouraging homeowners" to hire licensed contractors, said Edie Ousley, a spokeswoman with the Florida Home Builders Association.
Learning from Andrew
Andrew holds many more sobering lessons for Katrina victims.
Thousands of Floridians lived for years in trailers provided by the federal government, while rebuilding was delayed because of a lack of contractors. Some gave up. Andrew spurred a large migration out of the area that bore the hurricane's brunt.
Andrew wrecked 28,000 homes, and it wasn't until 2003 that the last were rebuilt, according to Howard of the national builders group. That raises serious questions about how long it will take to rebuild after Katrina, which destroyed 275,000 homes, by Red Cross estimates.
The creeping pace of progress unnerves homeowners like Stewart. The hospital administrator, who will start a temporary job in California in early October, is trying to find someone before then to begin work on a home where mold is quickly climbing the walls.
"I won't be here to oversee the work," she said. "I need somebody I know I can trust."
Copyright 2018 The Associated Press. All rights reserved. This material may not be published, broadcast, rewritten or redistributed. We strive to uphold our values for every story published.