More talking heads. Shorter sound bites. Polls, polls, polls.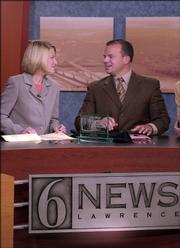 This formula for political coverage seems to be the norm today in television news, while informative, comprehensive political coverage goes the way of the Whig Party.
But that's not the case for The World Company's 6News. The organization has claimed a 2005 Walter Cronkite Award for Excellence in Television Political Journalism from the University of Southern California's Annenberg School of Journalism.
6news won the award in the local cable news category for a one-hour election special in November.
6News Director Cody Howard returned Thursday from Los Angeles, where he accepted the award at a luncheon with broadcasting legend Walter Cronkite.
"It's heartening to receive this kind of national recognition in a time that solid political reporting for television seems to be a dying art," Howard said. "We feel it's our duty to bring viewers more than just surface coverage of the candidates and issues, so it's a great honor to be recognized for our efforts."
Other winners at the ceremony, held Tuesday at the USC campus, were stations in Boston, Seattle and Tampa, as well as NBC's "Meet the Press."
Copyright 2018 The Lawrence Journal-World. All rights reserved. This material may not be published, broadcast, rewritten or redistributed. We strive to uphold our values for every story published.