In today's tour of the blogosphere, we'll visit five pop culture Web logs you should be reading. As a reminder, for the comfort and courtesy of the bloggers around you, please refrain from any eating, drinking, smoking or flash photography. We'll discover the artful prose of Boing Boing, Fark, Vodka Pundit, Gizmodo, and Pink is the New Blog. Please feel free to bookmark or heckle along the way.
Subject matter: Everything but the kitchen sink
Blogger: Mark Frauenfelder
He says: "Boing Boing covers popular culture and important news the mainstream media misses or misinterprets."
We say: A little nerdy? Sure. Rich in content? Absolutely. Boing Boing is very popular, devouring all other blogs with savvy commentary on astutely unearthed topics ranging from sexy tool belts to vintage computers.
His motive: "To quote Bukowski: 'An idiotic urge."'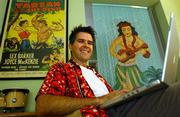 Unhealthy obsession: "Stories of celebrity misbehavior."
Subject matter: news served sunnyside up
Blogger: Drew Curtis
He says: "We read 2,000 news articles a day, find the 50 to 75 funniest ones and post them in a constantly updating list."
We say: With tags such as "Obvious," "Scary" and "Spiffy," Fark filters the glut of news with more innovation than a Ron Popeil infomercial. Sure, the minimalist interface is IKEA-ish, but it's more comfortable than lounging on one of those KLIPPAN sofas.
His motive: "My career as a goat herder pretty much wasn't going anywhere."
Unhealthy obsession: "I play soccer four times a week, so that probably counts as an obsession. I'm not sure if it's that or going out for beers afterwards."
Subject matter: boozy politics
Blogger: Stephen Green
He says: "You know that drunk guy sitting by himself at the end of the bar, talking back to the TV news? That's my blog."
We say: Green has an informed opinion on everything from the Iraqi war to the termites in his house. With Vodka Pundit, he thoroughly explains political goings-on while Nancy Grace will only scream about them for a few seconds.
His motive: "Discovered InstaPundit on 9/11/2001. Thought, 'I could do that.' Turns out I couldn't, but I keep on trying, anyway."
Unhealthy obsession: "That with just enough effort, I'll find a martini and a spicy Italian sausage that go well together."
Subject matter: gaggles of gadgets
Blogger: John Biggs
He says: Gizmodo is "an irreverent look at everything shiny, electronic and pocket-sized."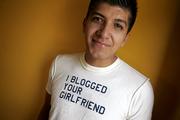 We say: The bay doors have been opened, HAL, and Gizmodo is flooding the blogosphere with handy news, links and reviews of all things electronic. Their coverage of kooky Japanese thingamajigs is out of this world.
His motive: "It's easier than working."
Unhealthy obsession: "Mechanical watches."
Subject matter: sassy paparazzi captions
Bloggers: Trent Vanegas
Vanegas says: "Pink is the New Blog is basically a pop culture/gossip commentary blog that is fun for all. It's celebrity skewering that is meant to be fun and not mean-spirited."
We say: Yeah, right. Pink is the New Blog has made an art of superimposing pinker-than-pink text, arrows and cartoon bubbles over the latest paparazzi shots. If Gossip is the office blabbermouth, Pink is the New Blog is your gay best friend who says what you're too afraid to.
His motive: "I started my blog in August of 2002 and did so because I wanted to get into the habit of writing something every day. Over time, the blog has evolved into how it exists now. I still write every day."
Unhealthy obsession: "Shopping or spending money. I do it practically every day."
Copyright 2018 The Associated Press. All rights reserved. This material may not be published, broadcast, rewritten or redistributed. We strive to uphold our values for every story published.