Last week, a Lawrence couple who had a 3-year-old relative visiting from Chicago made a trip to Henrys' Plant Farm west of town.
"He'd never heard a rooster crow," said Marcia Henry, who owns the farm with her husband, Roy. "Now our lifestyle is such that grandma doesn't live on the farm anymore, so we've lost that communication. They don't visit her on the farm, they visit her at her condo in town."
Area farmers are finding that agritourism - an industry buzzword in recent years - is actually starting to become a reality. They're doing more marketing for a wide variety of country activities, including picking fruits and vegetables, tasting locally made wine, hay rack rides, hunting, fishing and petting animals.
That agritourism potential near Lawrence will be the focus this weekend during the first-ever Kaw Valley Farm Tour, featuring 16 farms from Overbrook to De Soto and everywhere in between. The farms will be open to the public with a variety of special events from 1 p.m. to 5 p.m. Saturday and Sunday.
Photo Gallery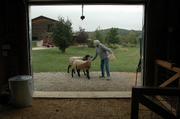 Agritourism
The tour, which organizers hope will become an annual event, is designed to entice people to the farms throughout the year.
"We want to showcase what we do have here in the Lawrence area," said Karen Pendleton, co-owner of Pendleton's Country Market and chairwoman of the planning committee. "We're fortunate to have a lot of farms that do direct marketing to the public."
Cash crops
Agritourism has been a new focus at the Kansas Department of Commerce since early 2004, when Gov. Kathleen Sebelius announced an initiative to strengthen efforts to bring tourists to farms and ranches. Agritourism providers now can register with the state to receive tax credits, limited liability insurance and help with marketing.
If you go
The first Kaw Valley Farm Tour runs from 1 p.m. to 5 p.m. Saturday and Sunday at 16 area farms.
Cost is $10 per carload, with tickets available Saturday and Sunday at the farms, and at several businesses in advance. For more info, visit www.visitlawrence.com/farmtour. A kickoff picnic will be from 5 p.m. to 7 p.m. in Centennial Park, Ninth and Iowa streets. Cost is $5 a person.
A Harvest Brunch will be from 10 a.m. to noon Sunday at Pendleton's Country Market, 1446 East 1850 Road. Cost is $8 a person.
So far, 174 operations have registered, said Janna Dunbar, agritourism program manager for the Department of Commerce. She said there were about 600 providers throughout the state, most focused in three main areas: wineries, hunting/fishing and produce farms, which tend to have most of their activities in the fall.
The Douglas County area is positioned perfectly to cash in on the trend, Dunbar said.
"Being close to a large population base like Kansas City, Lawrence or Topeka, gives people an opportunity to come out to these small specialty farms and have this local support," Dunbar said. "The audience we tell agritourism operators to shoot for is a 100- to 150-mile radius, or about a two-hour drive for a farm operation."
Bill Wood, agriculture extension agent for Douglas County, said agritourism was becoming a necessity for survival among some farms. With a more global marketplace comes increased competition - and often lower prices -for traditional crops sold in traditional ways, he said.
"Our farmers are looking to add value by making ethanol, soybean diesel or other ways to regain income," Wood said. "One way is agritourism, because 50 years ago just about everybody lived in the country or had grandparents in the country that lived on a farm. Now, we're getting three or four generations removed from the farm."
The tour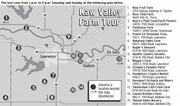 This weekend's events include hayrack rides, educational demonstrations, petting zoos and children's games. Cost is $10 a carload, with participants able to set their own schedule.
At Maggie's Farm, north of Lawrence, wool from the farm's nine sheep will be spun into two shawls in a "sheep-to-shawl" demonstration.
"I think it's a great idea," owner Barbara Clark said of the tour. "It's such a great way to promote agriculture in the area, and not only promote but help some of the small family farms stay intact, when they've slowly eroded over the last decade."
Pendleton said she thought there was a big market for agritourism among people who simply have a curiosity about where their food originates.
"Local produce is a huge issue for a lot of people," she said. "Just like we want to support local businesses, these are all local hometown business people. You get the fun of going out to the farm, and there are all sorts of activities you can do besides just going out to the farm and buying."
Copyright 2018 The Lawrence Journal-World. All rights reserved. This material may not be published, broadcast, rewritten or redistributed. We strive to uphold our values for every story published.