An electrical malfunction was blamed for a two-alarm fire that damaged a third-floor apartment Wednesday afternoon at West Hills Apartments, 1012 Emery Road.
Lawrence-Douglas County Fire & Medical crews found heavy smoke and flames coming out of a window when they responded to a 911 call shortly after 2 p.m., Deputy Chief Mark Bradford said.
No one was in the apartment when the fire started and all of the building's occupants got out safely, Bradford said. The fire started as a result of a faulty power strip, he said. No damage estimate had been made late Wednesday.
The fire was a little too close for comfort for Kansas University students who live in the building.
Marcus Howard stepped into the hallway on the third floor and found it full of smoke.
"I went downstairs and made a couple of strides to the door and I was out of there," said Howard.
Chris Rexroad was walking down the stairs from his fourth floor apartment when the fire broke out.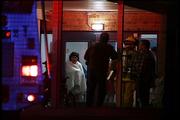 "You could smell something burning really bad," Rexroad said. "Then I heard the alarms going off.
Two women who lived in the fire-damaged apartment were unable to return to it Wednesday night but were able to find somewhere else to stay, said Jane Blocher, executive director of the Douglas County chapter of the American Red Cross. She said the Red Cross was assisting the victims by providing them with meals and clothing.
Copyright 2018 The Lawrence Journal-World. All rights reserved. This material may not be published, broadcast, rewritten or redistributed. We strive to uphold our values for every story published.