Children's furniture that looks just like larger adult pieces is getting attention at furniture manufacturers' conventions this year. Small hide-a-bed sofas and recliner chairs are now available, but the idea is not new. Small chairs that matched full-size carved Chippendale chairs were made for the wealthy in the 18th century. Wooden Shaker chairs from the 19th century were made in size zero for children. Charles Eames and other 1950s designers made child-size versions of chairs with plywood seats and metal legs or of bent plastic. There was also "cute" furniture that could almost be considered toys. Small sofas covered in fabric picturing nursery-rhyme characters, Mickey Mouse or cowboy stars were sold in the 1960s. Even earlier were chairs decorated with ABCs and children playing. Don't confuse children's furniture with doll furniture - a doll's chair would be about 12 inches high, and a child's chair about 26 inches high. Look for all sorts of children's furniture made long ago. It usually sells for more than full-size pieces.
Q: Please help me identify and price my aunt's antique porcelain bowl. She bought it sometime after World War II. The bowl is cream-colored with a multicolored wash surrounding the decoration of cream-colored relief figures from Greek mythology. The circular green mark on the bottom encloses a crown with a leafy branch on each side above the words "Altenburg, Saxony," and below the word "Iris."
A: Your aunt's bowl was manufactured by the Roschutz Porcelain Manufactory Unger & Schilde of Roschutz, Thuringia, Germany. The factory was in business from 1881 until 1990, although East Germany nationalized it in 1953. The mark you describe was used from about 1906 to 1953. Iris is the pattern, named for the Greek goddess of the rainbow. The multicolored background wash probably represents the rainbow. Your aunt's bowl, if in excellent condition, might sell for about $75 to $100.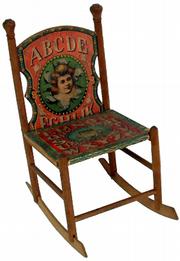 Q: Can you tell me what my Breitling wristwatch is worth? Besides telling time, it has a slide rule around the outside edge and two stopwatches. The face is white with gold hour and minute hands, a red second hand and single gold lines for each hour. Other numbers on the dials or around the edge are red or black. Printed in capital letters on the face are the words "Breitling, Geneve, Chronomat, Swiss Made." The band is leather, and I have the original box.
A: Breitling was founded in Switzerland in 1884 and is still in business. It is well-known for its specialized watches designed for pilots, divers or sports enthusiasts. The Chronomat is probably Breitling's most famous watch. Before the age of flight computers, the watch's slide rule could help a pilot do necessary mathematical computations. The Chronomat was first marketed in 1942, but Breitling has manufactured many different models of the watch since then. Look at the back of your watch to find its reference number. That will be a clue to when it was made. Breitling Chronomats are popular with collectors and can sell for $1,000 or more. But the value of yours depends on its age and condition, and whether it's stainless steel, gold-filled or solid gold.
Tip
A damaged porcelain clock face is difficult to repair. It will lower the price of a clock by 20 percent to 30 percent.
Current prices
Current prices are recorded from antiques shows, flea markets, sales and auctions throughout the United States. Prices can vary in different locations. ¢ Bloodhound Tobacco sign, heavy paper, image of bloodhound sniffing tobacco plug, cream ground, black and red letters, 30 x 59 inches, $160. ¢ Victorian tin lithograph tray, "A Tea Party," 3 women in period dress enjoying tea, c. 1901, 13 x 16 inches, $200. ¢ McCoy cookie jar, world globe, airplane on lid, 10 inches, $245. ¢ Mount Washington saltshaker, chicken head, yellow and blue daisies on cream ground, 2 1/4 inches, $260. ¢ Child's wooden sled, original red paint and stenciling, Paris Mfg. Co., c. 1880, 34 inches, $300. ¢ Roseville vase, Ming trees, turquoise blue and brown, c. 1947, 8 inches, $355. ¢ Cloth portrait doll of Princess Elizabeth, felt, blue glass inset eyes, painted facial features, velvet body, pink coat and hat, Chad Valley Ltd., 1935, 18 inches, $1,450.
Copyright 2018 The Lawrence Journal-World. All rights reserved. This material may not be published, broadcast, rewritten or redistributed. We strive to uphold our values for every story published.