When Coleen Martin was growing up, she often walked or rode a bicycle past the old fire station at 1839 Mass.
But it wasn't until Wednesday night that she got to see inside the two-story building, now known as Lawrence-Douglas County Fire & Medical Station 5.
"It's such a neat old building," Martin said, as she looked around the second-floor living quarters used by the firefighters.
"I don't want it to be torn down."
Neither do Lawrence city officials. That's why they held an open house to allow people to see the station and offer suggestions as to what it might be used for. The station, which opened Nov. 15, 1928, was the city's second fire station at the time.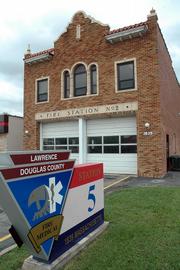 The station will close after the new Station 5, now under construction at 19th Street and Stewart Avenue, is opened.
Martin said she didn't have any suggestions for how the building might later be used. But Matt Henderson, a sales manager at Prosoco, knows exactly what he'd like to do with it. He wants to buy it and live in it.
"I would absolutely keep the exterior the same," said Henderson, referring to the red brick outside walls.
"You don't know how much I'd like to have this."
Henderson said he also had some ideas about a business occupying the first floor where the truck bay is.
"How feasible they are, I don't really know," Henderson said.
Henderson also said he wondered whether the station might be a good place to put an art gallery in addition to a single-family residence.
Fire Station No. 5, 1839 Mass. St.
From the time it opened until 1972, the building served as Station 2. From 1972 until 1997, it was used to house a private ambulance service and then Douglas County Ambulance Service. Since 1997, the fire department has used it as a base for battalion chiefs, and there also is now an ambulance based there.
The Lawrence Historic Resources Commission is considering whether the station can be placed on the city register of historic places. That decision could come by the end of the year.
City Commissioners Mike Amyx and David Schauner, along with Mike Wildgen and Deputy Fire & Medical Chief Mark Bradford, also attended the open house. They said they had no preferences about what the building might be used for.
"We want to make sure it is in very good hands," Amyx said. "We're looking for new, creative ideas."
Some have suggested the building be used as a fire museum. That would require a decision by commissioners about whether to fund continued maintenance of the building.
Martin also hopes someone takes over the building and cares for it.
"It's definitely a part of Lawrence," she said. "It's just a very historical building."
Copyright 2018 The Lawrence Journal-World. All rights reserved. This material may not be published, broadcast, rewritten or redistributed. We strive to uphold our values for every story published.