Autumn ushers in many temptations: Halloween candy, tailgating food at football games and snuggling in bed a little longer as the days grow shorter. But perhaps the most tempting of all fall delights is the apple.
Americans eat more apples than any other fruit, putting down an average of 18 pounds per person each year. The country ranks second in production only to China, which cranks out 1.2 million bushels of apples annually; and the fruit - ever adaptable to different climates - is grown in all 50 states.
David and Wendy Vertacnik are among the producers around Lawrence. The couple run Vertacnik Orchard just east of town at 1403 East 1850 Road.
David, a ceramics professor at Kansas University, got the gardening bug when he was just a kid helping his grandmother tend to her apple trees in central Indiana.
"As a boy, my cousins and I would help around the farm," he recalls "Caring for the apple trees became an annual ritual with the pruning, to the spraying and the harvest. I just grew up around apple trees."
That love of farming transcended time when Vertacnik planted 25 apple trees in 1981, followed by another 25 in 1982.
Photo Gallery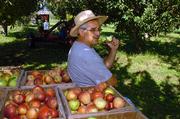 Apple allure
"The Starks Brothers' special in their fruit catalog was where I purchased the second group of trees," he says. "Over the years, I've added more trees and varieties, and now I have just under 100 trees."
All that experience makes Vertacnik adept at pomology, the science of growing fruit. But it doesn't take a degree to figure out whether you prefer sweet, tart or sour apples. Whether you like your apples baked, in sauce, in cider or plucked fresh off the limb, there's a variety to suit your palate.
The first apple tree was discovered somewhere between the Caspian and Black seas, but America became inundated with the tasty fruit because of the pilgrims. When they first began to inhabit the Massachusetts Bay Colony, they immediately sowed apple seeds. One pilgrim in particular, John Chapman - better known as Johnny Appleseed - peppered the American landscape with apple seeds as he traveled across the Ohio Valley, ensuring that settlers who followed would have something nutritious to eat.
Repeat customers
David Vertacnik can often be seen munching the fruits of his labor.
He says one of the most rewarding facets of owning the orchard comes this time of year, when minivans full of families barrel down the road to spend part of their day picking from his trees.
"People enjoy coming to the source and participating in the joys of being outside, experiencing the bounty of fruit and sharing these activities with their families," he says.
Wendy and David make a practice of harvesting the fruit at the tops of their trees with a special mechanical lift, leaving the lower branches swelling with apples ready for customers to pick.
When it comes to operating the orchard, David finds very little to complain about.
Did you know?
¢ Granny Smith apples originated in Australia. ¢ Apples float in the water because they consist of 25 percent air. ¢ 7,500 varieties of apples are grown in the world, 2,500 of them in the U.S. ¢ Apples are fat-, sodium- and cholesterol-free. ¢ The largest apple ever picked weighed 3 pounds. ¢ It takes the energy of 50 leaves to produce 1 apple. ¢ China is the leading producer of apples.
Sources: www.urbanext.uiuc.edu, www.freshforkids.com
"I like all phases of the process. The pruning is like a sculpture to me," says David, who's also an artist. "I like riding the tractor. I enjoy harvesting the fruit. Another rewarding aspect is seeing people enjoy the orchard, eating the fruit and seeing the families come back year after year."
A childhood getaway
Some of my fondest childhood memories stem from my sister and I screaming, laughing and running around like a couple of maniacs on my grandparent's orchard in southern Kansas.
Murphy's Orchard was a great getaway, a fantasy vacation for an 8-year-old with its wide, open spaces. Anytime we needed something to eat, we simply yanked down a branch and started munching, which ensured we could stay outside all day long.
My grandparents grew apples, peaches and nectarines for 22 years before my grandfather passed away. Then my grandmother, Babs Murphy, sold the property, but she retains a lot of insight about running an orchard.
"Nothing is more beautiful than an orchard in bloom," she says. "It smells sweet, it is shades of pinks and whites, and it brings the promise of the harvest to come."
But as any farmer will tell you, growing a crop is not all fun and games.
"The most trying aspect of growing apples was spraying the trees with insecticides and then a rain would come along and undo everything that you had done and you would have to repeat the entire process over again," she says. "You are always battling the weather, like the possibility of frost when the apple trees are in their blooming stage or the likelihood of a drought when summers would roll around. There is a lot that is simply left up to chance."
Still, there's something nostalgic and personal about visiting an orchard and carefully choosing each perfectly shaped, shiny apple.
"My favorite aspect to running an apple orchard," Murphy says, "was all of the great friends I made through repeat customers."
So whether you find yourself scratching your head on a beautiful autumn Saturday, pondering something fun to do, or biting your nails and marking the calendar in anticipation of an annual visit to one of the many local orchards, just go. There are very few treks that will make as many lasting memories as picking apples with people you love and then going home to concoct something scrumptious with your bounty.
Area apple orchards
¢ Vertacnik Orchard, 1403 East 1850 Road, 842-4428, pick your own apples, small store.
¢ Fieldstone Orchard and B & B, 7049 E. 149th St., near Overbrook, (785) 665-7643, pick your own from more than 50 varieties of apples.
¢ Pome on the Range, I-35 south of Ottawa, (785) 746-5492, large orchard, pick your own, store, cider mill.
¢ Wildhorse Orchards, 7379 E. Kansas Highway 16, McLouth, (913) 796-6373, pick-your-own orchard with more than just apples, cider mill.
¢ Rees Fruit Farm, Junction of Kansas Highway 4 and U.S. Highway 24, near Topeka, (785) 246-3257, pick your own, cider mill, big store.
Copyright 2018 The Lawrence Journal-World. All rights reserved. This material may not be published, broadcast, rewritten or redistributed. We strive to uphold our values for every story published.