You know you're getting old if you can remember times when a gallon of gasoline and an avocado each cost less than 35 cents.
Of course, I've seen a three-for-a-dollar sale on avocados a lot more recently than I've been able to buy a gallon of gas with loose change fished out of the back seat of the car. If I extended this analogy, in which my high school friends and I scrounged for coins to buy enough gas to drag Main until curfew, I'd also have to talk about 29-cent packs of cigarettes, which would really date me. So I'll stick with avocados.
It used to be that when avocados went on sale, they really went on sale. They often were hard as tennis balls and had to sit on the kitchen window sill for a week or so, until they softened enough to use, but they were avocados and they were cheap.
Now, avocados seem to spend a lot more of the year priced at $1.50 or $2 each, which puts them outside the reach of most consumers. At these prices, making a full batch of guacamole ends up costing as much as a steak dinner. And now, when avocados do go on sale, they still seem pricey.
I was pondering these matters the other day as I drove well out of my way - burning $2.69 gasoline as I went - to buy $1 avocados, which had been advertised by a local supermarket. Actually, the price was listed at 10 for $10, rather than $1 apiece, which merely demonstrates that even ad copy is subject to inflation.
In any case, I felt truly fortunate to be able to buy avocados - ripe and ready to eat, even - at such a rock-bottom price. The next big sale season for avocados will be near the end of the year, when supermarkets use them as an inducement for holiday shoppers.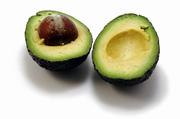 My favorite ways to use avocados are in guacamole or in sandwiches. My mother also made a simple avocado and citrus salad, in which she alternated wedges of avocado with grapefruit sections on top of a lettuce leaf, and drizzled them with a sweet dressing. It remains one of the strongest and most pleasant taste memories of my childhood, and I was happy to find a recipe that replicates it. This one is from Martha Rose Shulman's "The Vegetarian Feast."
Avocado and Citrus Salad
3 avocados
Juice of 1 lemon
2 grapefruits or oranges (or one of each), peeled and white membranes removed, then sectioned
1 bunch of watercress or leaf lettuce, leaves separated, then washed and dried
2 tablespoons minced green onion, both white part and green
1 recipe Poppy Seed Dressing
Cut the avocados in half and discard the seeds. Peel and slice lengthwise to produce wedges. Gently toss the slices with the lemon juice to prevent discoloration.
Arrange the avocado and citrus slices on a bed of greens, either on a serving platter or on individual salad plates. Sprinkle the minced onion on top and sparingly top with the dressing. Serve immediately. Makes 6 servings.
Poppy Seed Dressing
2 tablespoons fresh lemon juice
2 tablespoons wine vinegar or cider vinegar
2 tablespoons mild honey
1 teaspoon Dijon mustard
Salt, preferably sea salt, to taste
Freshly ground pepper to taste
1/4 cup canola oil
2/3 cup plain nonfat yogurt
3 tablespoons poppy seeds
Mix together the lemon juice, vinegar, honey, mustard, salt and pepper. Whisk in the oil, then the yogurt. Stir in the poppy seeds. Taste and adjust the seasonings. Refrigerate until ready to use. Makes 1 1/3 cups.
Copyright 2017 The Lawrence Journal-World. All rights reserved. This material may not be published, broadcast, rewritten or redistributed. We strive to uphold our values for every story published.