Lake Charles, La. — President Bush flew over the largely obliterated Louisiana town of Cameron and circled an offshore oil rig Tuesday in his first up-close look at the devastation that Hurricane Rita brought to the Gulf Coast's oil producing and refining communities.
"This area's hurting," Bush said before an hour-long helicopter tour over the debris-strewn communities along the Texas-Louisiana border where Rita blew ashore. "I saw firsthand how it's hurting."
Bush saw flattened and flooded homes, hundreds of downed trees, extensive roof damage and dozens of stranded and wandering cows. He flew over utility towers that had been knocked over, a Blockbuster video store with windows knocked into the parking lot, a power company worker making repairs and a riverboat washed halfway up onto muddy ground.
It was Bush's seventh visit to the Gulf in the aftermath of the two hurricanes that brought widespread damage here in less than a month, but it was his first personal look at the area hit by Rita.
"I understand there's a lot of frustrations," the president said in Lake Charles. "People who are scattered around want to come back and see their homes. They want to come back to the communities they love. But it's very important for them to understand that now's not the time to come back."
He said that sewers needed to be repaired and clean drinking water assured before people returned.
Photo Gallery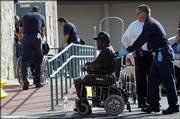 Hurricane Rita
Bush stood with Louisiana Gov. Kathleen Blanco, who said the oil and gas industry was dependent on "a healthy Louisiana." Bush, a former oilman, patted her sympathetically on the back.
"Some things worked right this time," Blanco said, comparing what happened with Rita with the disaster of Hurricane Katrina. "We learned a lot of lessons from our previous experience with Katrina. Our communications network stayed up."
The tour started over Beaumont, Texas, where the president flew above a flooded oil refinery and police roadblocks set up to keep residents out of town. Three trucks hauling trailer homes brought new housing to the evacuated city.
The worst damage was in Cameron where an estimated 80 percent of the buildings were leveled. Marine One, Bush's helicopter, circled the town, then headed south over the Gulf of Mexico so the president could examine the offshore rig.
Bush landed at the airport in Lake Charles in front of a severely damaged hangar holding an Air Force plane. The roof and the doors had caved in, spilling insulation over the floor and the plane.
Bush was briefed in Beaumont on Texas' response to the storm. He got another report from Louisiana officials after landing in Lake Charles.
Bush said his priorities were to assist people with food, water and fuel, and to restore power.
"We fully understand that it's hard to maintain order if you don't have fuel for your cars and first responders," the president said, standing alongside Texas Gov. Rick Perry in Beaumont.
The area visited by Bush is home to refineries that turn oil into gasoline, many of which were knocked out of power.
Copyright 2018 The Associated Press. All rights reserved. This material may not be published, broadcast, rewritten or redistributed. We strive to uphold our values for every story published.