Baton Rouge, La. — Rick Clausen and Tennessee refused to be part of LSU's feel-good story.
Gerald Riggs Jr. pushed into the end zone from a yard out in overtime to give the 10th-ranked Volunteers a 30-27 comeback victory Monday night in the Tigers' long-awaited, hurricane-delayed home opener.
Clausen, an LSU transfer, led the Volunteers (2-1, 1-1 Southeastern Conference) back from a 21-point deficit in the second half to send the game to OT at 24-all.
"Getting done what he got done, coming back here to win this football game at a place where he had been, I don't know if there is a better story in the world than what this guy has done," Tennessee coach Phillip Fulmer said.
The Tigers had first crack in overtime, but managed only a 31-yard field goal by Colt David.
Riggs accounted for all the Vols' yards in overtime with a 10-yard reception and four runs. He powered through the line and in for the game-winner on second down to send the hurricane-weary Louisianans home with a bitter loss.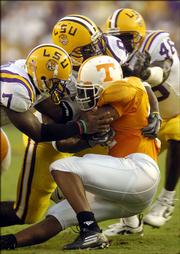 "I don't know what happened out there. We played like a joke out there in the second half," LSU defensive tackle Kyle Williams said. "It was nothing they did, it was everything we did. It was just an absolute joke in the second half. It was a complete and total breakdown."
Hurricane Katrina forced the No. 4 Tigers to postpone their first home game and move their second to Arizona State, where LSU came away with a dramatic victory.
Then Hurricane Rita created another delay and set up the first Monday nighter in Tiger Stadium.
The crowd was a bit smaller than usual, but it was as loud as ever, and the Tigers (1-1, 0-1) certainly looked like a team eager to play when they jumped to a 21-0 lead in the first half.
"There was no panic," Fulmer said. "We challenged each other."
Clausen came off the bench to rally Tennessee with a touchdown pass and a one-yard TD sneak that made it 24-14 with 9:35 left in the fourth.
He finished 21-for-32 for 196 yards and appeared to settle the Vols' quarterback controversy.
Jonathan Hefney intercepted JaMarcus Russell and returned it 26 yards to the LSU 2 on the next possession. When Riggs scored from a yard out with 7:15 left in regulation, the crowd went silent as the lead was down to three.
Then Tennessee's defense forced another LSU punt and Riggs' 22-yard run helped get James Wilhoit in position for a 28-yard field goal that tied it.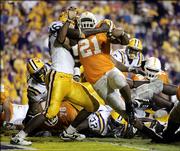 Riggs finished with 89 yards on 24 carries.
LSU had one last shot in regulation when LaRon Landry intercepted a pass at the Tigers 45 with 17.7 second left. But all LSU could manage was a last-play heave into the end zone heave that was picked off as time expired.
Tennessee, which had managed just 24 points in its first two games, looked lost offensively with Erik Ainge starting at quarterback.
Ainge's fumble set up the first score and his ill-advised desperation throw out of his own end zone turned into a 3-yard interception return for a touchdown by Kenneth Hollis.
Ainge was inadvertently slammed into the base of the goal post by Cameron Vaughn on the touchdown and shaken up.
Clausen relieved with the Vols down by three touchdowns halfway into the second quarter.
Ainge finished 7-for-19 for 54 yards.
The three-touchdown lead could have been even bigger for the Tigers. They lost two fumbles in Tennessee territory and watched time run out in the half with the ball at the Vols' five.
A moment of silence was held for the victims of the hurricanes before the game, and LSU's band played "Walking in New Orleans" before the alma mater and national anthem.
Copyright 2018 The Associated Press. All rights reserved. This material may not be published, broadcast, rewritten or redistributed. We strive to uphold our values for every story published.