Topeka — A southeast Kansas pharmacist said Monday he was shocked to get a Medicaid reimbursement check from the state that included a payment of $999,999.99 for a $12 prescription of eyedrops.
But he said he was doubly shocked when his staff contacted Medicaid officials to let them know of the mistake, and the officials refused to do anything about it.
"It was just unbelievable that they would not take the check back," Steve DeFever, owner of DeFever-Osburn Drug in Independence, said.
The incident was brought up by Sen. Derek Schmidt, R-Independence, during a meeting of a legislative committee that is looking into ways to reform Medicaid funding, which has skyrocketed in recent years.
"The poor fellow has been trying to give the money back, and he has been told there is no procedure to give it back," said Schmidt, chairman of the committee. "I find it a little bit troubling."
Other members of the committee said they had heard of similar anecdotes.
Scott Brunner, of the state's Division of Health Policy and Finance, and officials from Electronic Data Systems, the private firm that manages the reimbursement system for Kansas' Medicaid program, were not immediately aware of the incident.
But after Schmidt's questions, Brunner looked into it, and said what happened was that the pharmacy put in for an incorrect reimbursement, and then corrected it before EDS could flag it as an "outlier."
But employees at the pharmacy said that explanation didn't sound plausible.
According to Teressa Kolb, the certified pharmacy technician for DeFever, the pharmacy submitted a bill to the state in April for reimbursement of prescriptions under Medicaid, the program that provides health insurance to low-income, elderly and disabled people.
The reimbursement to the pharmacy usually ranges between $17,000 and $20,000 per week, she said.
But when the reimbursement was made to the pharmacy, it was for more than $1 million, including the overpayment for prescription eyedrops, she said.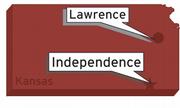 Kolb said she called Medicaid officials at least three times, and was told there was no procedure to cancel the check.
"I tried to send that check back and they would have no part of it," she said.
Brunner said EDS hasn't found records of the calls, but that they hadn't checked everywhere yet.
Kolb said she was told by Medicaid to deposit the check in the bank, and that the pharmacy's future reimbursements would be drawn down from the funds until they ran out.
DeFever said he estimated that draw-down would be completed by the end of the year.
But what troubled DeFever and lawmakers more than the refusal to take back the overpayment check was the initial error.
"If we hadn't reported it, they would have never known," DeFever said. "I could've gone to the Bahamas."
Brunner said he also was troubled that the amount of reimbursement didn't trigger a response, although he noted that the system of handling claims is immense, with up to 300,000 claims a day processed.
Schmidt said perhaps the state needs to establish an office of inspector general to ensure that funds are properly spent in the mammoth Medicaid system. National statistics indicate approximately 10 percent of all Medicaid and Medicare expenses are fraudulent.
Approximately 230,000 Kansans receive Medicaid services through 19,000 providers. The state and federally funded health insurance system costs about $1.4 billion per year in Kansas.
Copyright 2018 The Lawrence Journal-World. All rights reserved. This material may not be published, broadcast, rewritten or redistributed. We strive to uphold our values for every story published.