New York — Lil' Kim rose to fame as a tough, raunchy gangsta girl, the Queen Bee of female rappers with rhymes that cast her as a powerful figure - a female Don in the male-dominated world of rap.
Now, as she prepares to release her latest album today while behind bars, the diminutive diva has added a new element to her persona: victim. In Kim's eyes, she's been preyed on by an overzealous government trying to punish hip-hop and jealous former friends who ratted her out in the courtroom.
"There's no reason why I should be going to jail. There's no reason why. There's no reason. I didn't shoot anyone, I didn't do anything wrong the way they would say," she told The Associated Press in her waning days of freedom. "It's not as bad as it could have been, but do I think it was fair? No."
Kim reported to a federal detention center in Philadelphia on Monday to serve 366 days for lying to a grand jury investigating a 2001 shootout involving members of her entourage and a clique loyal to her archenemy, rapper Foxy Brown.
On her new album, ironically titled "The Naked Truth," Kim casts herself as a scapegoat of a government bent on cracking down on gangsta rap through investigations and prosecutions. In recent years, the "government against hip-hop" theme has become a rap mantra, as reports of police surveillance of rappers have surfaced and prominent rap figures have gone to jail or been indicted for various crimes.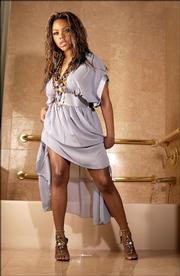 "Unfortunately, me as a woman, I had to take one for the team, and when I say for the team I say hip-hop, because I was the poster child for the federal government, for their investigations," she said, curled up on a couch in a posh Manhattan hotel suite, enjoying one of the last comforts of celebrity life before heading to prison.
Lil' Kim, born Kimberly Jones, rose to fame more than a decade ago as a member of Junior M.A.F.I.A, an oversexed female sidekick in the rap clique created by her lover and mentor, the Notorious B.I.G. The 4-foot-11 rapper stood out with her flamboyant, Mae West-like personality and B.I.G.-written rhymes.
After Biggie's death, Kim continued to shine, serving up platinum albums while morphing into a glamorous, outrageously clad style icon, through the miracles of high fashion and extensive plastic surgery.
But things fell apart for Kim after she was indicted for perjury for refusing to acknowledge the obvious presence of two friends at a shootout outside New York's top rap radio station.
She was convicted in March. Though several high-profile rappers have been sent to prison after attaining fame, Kim is the first prominent female to do time - a fact not lost on her.
Copyright 2018 The Associated Press. All rights reserved. This material may not be published, broadcast, rewritten or redistributed. We strive to uphold our values for every story published.