Baghdad, Iraq — Insurgents dragged five Shiite Muslim schoolteachers and their driver into a classroom, lined them against a wall and gunned them down Monday - slayings in Iraq's notorious Triangle of Death that reflect the enflamed sectarian divisions ahead of a constitutional referendum.
The shooting was a rare attack on a school amid Iraq's relentless violence, and it was particularly stunning because the gunmen targeted teachers in a school where the children were mainly Sunnis. Elsewhere Monday, a suicide attack and roadside bombings killed 10 Iraqis and three Americans, bringing to at least 52 the number of people killed in the past two days.
The Iraqi and U.S. governments have warned that Sunni Arab insurgents are likely to increase their attacks ahead of the Oct. 15 national referendum.
Shiite leaders have called on their followers to refrain from revenge attacks against Sunnis, fearing a civil war could result, though Sunnis have accused Shiite militias of carrying out some killings of Sunni figures.
But in one of the first public calls for individual Shiites to take action, a prominent Shiite cleric, Ayatollah Mohammed al-Yaaqubi, issued a religious edict Monday allowing his followers to "kill terrorists before they kill."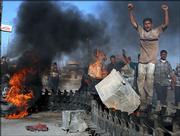 "Self-restraint does not mean surrender. ... Protecting society from terrorists is a religious duty," al-Yaaqubi said.
Leaders of Iraq's Sunni minority are calling on their followers to vote against the constitution and defeat the charter.
U.S. and Iraqi officials tried to rally Sunni support for the referendum by releasing 500 detainees from Abu Ghraib prison outside Baghdad to mark the coming Islamic holy month of Ramadan, a step called for by Sunni leaders.
U.S. defense officials in Washington said Monday that a leading deputy to al-Zarqawi, identified as Abu Azzam, was killed this weekend. The officials spoke on the condition of anonymity, citing the sensitivity of the information.
CBS News, quoting Pentagon officials, reported that U.S. forces killed Azzam in a house raid in Baghdad on Sunday. CBS described Azzam as Zarqawi's top deputy, in control of financing foreign fighters coming into Iraq.
A roadside bombing in western Baghdad killed two American soldiers, and a third U.S. soldier was killed in a bombing about 50 miles southeast of the capital, the military said.
Copyright 2018 The Associated Press. All rights reserved. This material may not be published, broadcast, rewritten or redistributed. We strive to uphold our values for every story published.