Blacksburg, Va. — Virginia Tech did a lot of everything right in its dismantling of Georgia Tech, riding a wave of big plays on special teams and defense to a 51-7 victory that looked a lot like a rout of Syracuse two seasons ago.
But as quickly as coach Frank Beamer realized the similarities between Saturday's game and the one against the Orange, he started thinking about what happened next.
In 2003, Virginia Tech traveled to West Virginia and lost, 28-7, the start of a third consecutive season when raised expectations quickly proved too much to handle.
This weekend, they again head to Morgantown, W.Va., and this time it will be after many cautionary words from their coach, who doesn't want another season to implode.
"One thing we have to understand as a football team is you just have to keep riding a smooth wagon," Beamer said, a day before his team climbed to No. 3 in the polls.
No team gets up to play the Hokies more than the Mountaineers, and those feelings should be enhanced by the fact that Virginia Tech left the Big East for the Atlantic Coast Conference last season, and the meeting is the last scheduled in the series.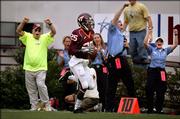 The Hokies (4-0, 3-0 ACC) can only hope to be as sharp as they were in what many considered their first real test of the season. The offense was efficient, the defense scored twice and shut down Georgia Tech, and the special-teams work was flawless.
The turning point came early, with the Hokies ahead 7-0, when the Yellow Jackets' drive stalled at the Hokies 18 and Travis Bell came on to try a 35-yard field goal.
Tight end Jeff King blocked it - his third career block - and D.J. Parker scooped it up and went 78 yards for a touchdown. Instead of a 7-3 lead, the Hokies led 14-0.
"I thought that was the big play in the game," Georgia Tech coach Chan Gailey said, before calling the Hokies the best team he'd seen in seven years in the ACC.
Copyright 2018 The Associated Press. All rights reserved. This material may not be published, broadcast, rewritten or redistributed. We strive to uphold our values for every story published.