Dallas — Edna Briant remembers lying on concrete, praying that her back wasn't broken, screaming for someone to rescue her 84-year-old sister from the burning bus that carried them and dozens of other nursing home patients away from the predicted path of Hurricane Rita.
"I said, 'Get Claire!'" said Briant, 87, a deep purple bruise evident on her left arm as she pointed to her sister. The two sat in side-by-side wheelchairs Sunday in a neat Dallas nursing home room, their calm smiles giving no hint of the harrowing month they had just survived.
The sisters were evacuated from New Orleans during Hurricane Katrina. On Friday, they were hustled from Houston amid gridlocked traffic as frantic Texans fled the coastal region. But before they got to Dallas, the pair survived a fire aboard a bus that left 23 people dead.
Briant, seated two rows behind the driver, said the group was on the bus for more than 15 hours when it "made a funny noise." The bus had already stopped once to fix a blown-out tire, causing "some mumbling and grumbling" among passengers.
When the bus stopped a second time, the driver looked concerned, she said.
"All of a sudden, he got out of the chair and he pushed my legs over and he's looking underneath" to the floor of the bus, she said.
The driver checked outside the vehicle and apparently noticed a problem, perhaps seeing flames or smoke. He briefly conferred with aides and yelled for passengers to get off the bus.
Photo Gallery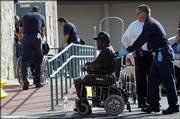 Hurricane Rita
"I said, 'You know I can't walk!"' Briant said. An aide rescued her by throwing her "on her shoulder or something," quickly putting her down on the ground, and going back for more people.
"I couldn't move, and I said, 'Please God, don't let my back be broken,"' she said.
Her sister later joined her on the roadside, along with several others dragged from the burning vehicle, Briant said. A series of explosions, at least some caused by the passengers' oxygen tanks, fueled more intense flames, authorities said.
Tina Jones, a nurse at Baylor University Medical Center, was on her way to work around dawn when she noticed black smoke billowing from a bus ahead of her on Interstate 45 just south of Dallas.
The bus moved over to the shoulder. That's when the first explosion happened, rocking Jones' minivan. At first, she thought she had been rear-ended. Then, the second blast came and fire erupted from the bus.
"The flames were just horrific. They were huge, especially it being so dark," Jones said.
Jones looked out her car window and saw a police officer. She yelled that she was a nurse, and the officer waved her through.
Two off-duty paramedics who also passed the bus were already tending those who had escaped. Jones then noticed an elderly man lying on the pavement and sobbing, calling for his wife, who died in the fire.
Authorities on Sunday said 23 people perished in the fire, down from earlier estimates that 24 passengers died.
Investigators with the National Transportation Safety Board arrived in Dallas over the weekend to begin sifting through the wreckage. NTSB spokesman Keith Holloway said the cause of the accident might not be known for a year or longer.
Copyright 2018 The Associated Press. All rights reserved. This material may not be published, broadcast, rewritten or redistributed. We strive to uphold our values for every story published.