Thousands of farmers across Kansas rely on their local Farm Service Agency office to obtain loans and other payments from federal programs - but maybe not for long.
The federal agency is considering a plan to streamline operations nationwide, and more than a quarter of its 103 county offices in Kansas could soon be closed.
And that has raised concerns among the state's farmers, who say it could complicate their business.
"To lose that service would be a handicap," said James Congrove, a rancher and president of the Douglas County Farm Bureau.
Details of the plan are still unknown. Bill Fuller, executive director of the Farm Service Agency in Kansas, will go to Washington, D.C., this week to receive instructions. The Associated Press, however, reported that 27 Kansas offices could be closed.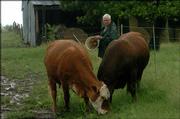 "We're kind of in the dark yet on this here," said Jack Salava, executive officer for the agency's state office in Manhattan.
U.S. Sen. Pat Roberts, a Kansas Republican on the Agriculture Committee, said last week that he was still waiting to hear the agency's plans for Kansas.
"Until all information is received, it is difficult for me to comment on the plan," Roberts said. "However, during this time of increased input costs and additional strains on producers' bottom lines, I must be convinced that reduced offices will improve services to our producers before I could support the plan."
Congrove says the Farm Service Agency is critical to the business of farmers and ranchers.
"We use the local offices to help us out, getting advice and filling out forms to get the payments and comply with all the rules we need to," he said.
The shuttering of FSA offices, he said, could make it more difficult for farmers to obtain that assistance.
"It would certainly be less convenient to get the business done that we need to do," Congrove said. "It would mean more travel and more time, doing those types of things. It would be a concern."
Losing the Lawrence office, he said, would hurt.
"I know the local office here is very helpful with the producers," Congrove said. "I'm sure I would echo the thoughts of most producers in the county that they appreciate the help they get here.
Copyright 2018 The Lawrence Journal-World. All rights reserved. This material may not be published, broadcast, rewritten or redistributed. We strive to uphold our values for every story published.