It's highly unlikely Russell Robinson and Jayhawker Towers roommate Micah Downs will oversleep today and miss the first session of Kansas University's basketball "Boot Camp."
"My alarm is kind of like a fire alarm. It's loud enough for both rooms," said Robinson, well aware tardiness is unacceptable at Bill Self's up-before-the-birds preseason conditioning workouts.
The sophomore guard from New York on Sunday set his alarm for 5:15 a.m. - giving him enough time to "get out of bed, eat a bowl of cereal, try to get to the locker room, relax, listen to some music and be on the court at 6."
Robinson realizes there will be heck to pay if he or any of his 13 teammates are not present and accounted for the 6 a.m. opening bell of Self's third-annual Boot Camp at Horejsi Center.
Self and his aides - including Air Force veteran/director of basketball operations Ronnie Chalmers - will resemble aggressive drill sergeants in dishing out penalty laps for any player transgressions the next two weeks.
"The minute you walk in (the gym), you can see the color in their eyes," Robinson said of KU's tired, yet intense, coaches. "It doesn't stop them from running you and running you."
Intent on continuing his streak of never being tardy - and keeping the coaches happy - Boot Camp veteran Christian Moody went to bed Sunday with strategy in mind.
"I set three alarms for Boot Camp. One at 5:30, one at 5:40 and one at 5:45," the senior forward said with a grin.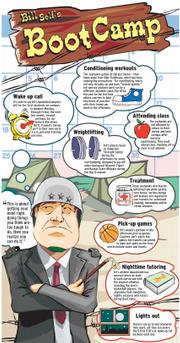 Does he really need the backup alarms?
"Definitely," he said, "plus it's nice to gradually wake up. You know, 'OK, I've got 10 more minutes. Oh, yeah, five more minutes.'''
'We do everything right'
Sleep is something to be valued by the Jayhawks the next two weeks as they tackle Boot Camp - which consists of a 60- to 90-minute conditioning session in the mornings, followed by classes on campus, weightlifting, individual workouts, unsupervised pickup games and nighttime academic tutoring.
Tardiness at any of the scheduled events means extra running - not just for an individual perpetrator, but the entire team.
"It's two weeks where we do everything right," Self said. "I'm talking about being on time to being in class, being responsible with tutors, making all your times conditioning-wise, getting treatment. Whatever it is, you do it right."
Those who do things wrong are reminded - even reprimanded - by other members of the group.
"Running for mistakes you've made makes for a long morning," Moody said. "If you miss a treatment or do something to make us run more : I think people are a lot less hesitant to get on each other (early in the morning) for making mistakes."
Robinson sees the purpose of Boot Camp as building team unity and "getting in condition for the start of the season - whether it's running, defensive sliding, whatever."
'They all get their mean faces on'
Boot Camp conditioning drills include traditional basketball "suicides" up and down the court and also reporting to stations for defensive drills, rope jumping, touching the backboard and other exercises.
"There's a coach at each station," Moody explained. "The toughest coach is probably the one at the station you least like. They all get their mean faces on for Boot Camp."
It's often the freshmen who struggle the most at Boot Camp. Robinson giggled when discussing past woes of his former roommate and good buddy, Alex Galindo.
"Well, last year, Alex passed out or whatever," Robinson said of the player who after the season transferred to Florida International. "He swore up and down his heart was hurting. He didn't say his chest, he said his heart. They checked him out and he just had a little cramp. That was one of the funniest things of Boot Camp.
"It was that tiring for him. That's when you get to see people's real faces, their real ugly faces."
Boot Camp veterans don't plan on warning freshmen Micah Downs, Mario Chalmers, Julian Wright and Brandon Rush about what's in store the next two weeks.
"I'm not going to tell them anything. We'll tell 'em that they are going to survive," Moody said. "It's just a big part of team building. Going through it and making it is definitely what makes it so worth it. Just how close you get as a team making it through such a struggle.
"We'll just let their fears and expectations : we'll just let those eat at 'em," he added with a sinister grin.
Driven to survive
Here's something the freshmen might consider ominous: Moody finds Boot Camp so exhausting, he actually drives his car the short distance from Jayhawker Towers over to Horejsi Center. It would be, at most, a three-minute walk.
"You can park your car close to the Towers and not get a ticket before 7 a.m.," Moody said, "and I drive over there. It seems too long a walk when you've got Boot Camp going on."
Self chuckled when asked to reveal specifics of Boot Camp 2005. He's not about to issue an itinerary to keep the players guessing.
"It will be primarily the same as the past," Self said. "We can do a little bit different things now that we are allowed to have the whole team together (two hours of practice time allowed per week in offseason in accordance with NCAA rules). We might include the ball as part of Boot Camp for a limited amount of time.
"Our goal is to get guys in better shape, develop mental and physical toughness."
And as a team, survive.
"It is all mind over matter. Our bodies can do things we never dreamed they could if our minds don't get in the way," Self said. "You realize you can do it for two weeks. It's hard. It's not impossible."
- Assistant sports editor Gary Bedore can be reached at 832-7186.
Copyright 2018 The Lawrence Journal-World. All rights reserved. This material may not be published, broadcast, rewritten or redistributed. We strive to uphold our values for every story published.